Upper Austrian machine engineering company opens up new dimensions in lightweight series production.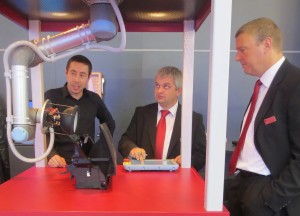 With economically employed technologies and automation along the entire production chain, the Austrian company is driving forward development in the plastics industry. A great many visitors saw this for themselves on the Fill exhibition stand at the Composites 2012 and FAKUMA international trade fairs in Düsseldorf and Friedrichshafen respectively. "The highest levels of cost-effectiveness, process reliability and efficiency are the hallmarks of our machines and systems.
This went down very well with the many interested parties in Düsseldorf and Friedrichshafen. We held a wealth of high quality discussions and came away with many concrete business leads," says a very satisfied Wilhelm Rupertsberger, Head of the Composites Competence Center at Fill.
Düsseldorf/Friedrichshafen/Gurten, 31 October 2012 – With the integrated approach – from simulation through to plant engineering and quality control – Fill scored highly at both the Composites (1 to 11 October 2012) and FAKUMA (16 to 20 October 2012) trade fairs.
The international trade audience showed a great deal of interest in the intelligent series production solutions. "In concrete terms, several companies have made appointments to visit our company in Gurten in order to find out more about our work. Our experts have also been invited to visit the plants of potential customers to discuss production optimizations in detail with the engineers on site," says Rupertsberger.
Energy and Automotive
With its fully automatic speedlayer 800 spar cap laying system for the production of rotor blades for wind turbines, Fill is setting a milestone in this field, an area which is still characterized largely by manual labor. Fill has implemented industrial manufacturing processes for the first time here. The fully automatic operation is reproducible, guarantees the highest levels of laying quality, and enables previously unattainable cycle times to be achieved, which are up to 90 percent shorter than before. In the automotive field, Fill Machine Engineering manufactures production systems for lightweight components made from polyurethane and composites, such as CFRP structural parts, roof modules, interior parts, and bumpers. The preforming liner former allows 2-dimensional parts to be transformed into a customer-defined, 3-dimensional free form (3D) in a reliable, fully automatic process.
Automation – integration – development
The integrated approach from Fill encompasses automation along the entire production chain, thereby increasing both productivity and flexibility. Furthermore, the Austrian specialist machine engineers integrate processes into existing production systems. The Fill experts also develop completely new processes for the plastics industry. With this competence and expertise from 30 years' experience in the field of automation, Fill made a very convincing impression at both trade fairs. Inquiries regarding potential research projects from the University of Stuttgart and the Frauenhofer Institute confirm Fill's innovative ability in this field.
Corporate data
Fill is a leading international machine and plant manufacturing company for diverse branches of industry. The family-owned business excels in the use of the latest technologies in management, communication, and production. Business operations encompass the fields of metal, plastics and wood for the automotive, aircraft, wind energy, sport and building industries. The company is the global market leader in ski and snowboard production machines and aluminum core removal technology. Andreas Fill and Wolfgang Rathner are joint CEOs of the company founded in 1966 that is still completely family-owned. The company became a public limited company (GmbH) in 1987, was certified in accordance with ISO 9001 in 1997, and now has more than 550 employees.