Industry reaction to today's announcement by Lord de Mauley about the MRF Code of Practice consultation.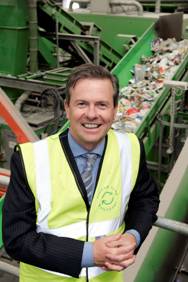 By Chris Dow, CEO of plastic recycler Closed Loop Recycling
"Today's much anticipated announcement by DEFRA's Lord de Mauley about the MRF Code of Practice consultation is the Government's first major step towards realising its plans to become the greenest government ever.
"We at Closed Loop Recycling agree with the ESA and other industry leaders that all aspects of the scheme must be mandatory and enforced via the Environmental Permit regime. It is absurd to believe that the illegal exporters would join the scheme if voluntary. We also believe that independent audits should be unannounced and should include physical sampling by the independent auditor. Without this check, illegal exporters would be able to create false but seemingly compliant sampling documentation. The audit might also include a holistic view of ISO systems documentation and customer feedback regarding quality.
"With a mandatory MRF Code of Practice, greater enforcement of the Trans-Frontier Ships Regulations and a review of the PRN/PERN system, UK re-processors will feel confident to invest in additional capacity which will lead to the creation of substantial numbers of green jobs and will reduce the UK's imports of virgin raw materials."

About Closed Loop Recycling
Closed Loop Recycling's facility in Dagenham, which was 'Waste Management Business of the Year 2011', is the World's first food grade mixed plastic bottle recycling plant. State-of-the-art sorting and reprocessing technology enables it to sort, granulate, wash, and super-clean 35,000 tonnes of recovered plastic bottles, including milk and soft drink bottles which are typically from local authority collections, and turn them back into recycled raw material for new food and drink packaging. The plant diverts a significant amount of waste from both landfill and export and saves up to 52,500 tonnes of CO2 per annum.
Closed Loop Recycling has announced extensive expansion plans which will double the current capacity of its Dagenham plant to 85,000 tonnes, creating the most advanced plastics purification facility in the UK. Construction on the site is likely to commence in 2013 and when finished will result in increased food-grade HDPE output, improved sorting facilities and better economies of scale. At full production, the facility will divert a further 100,000 tonnes of carbon emissions. It will also create and safeguard 100 jobs at the site.