PVC buyers in India are taking a cautious approach to the market as they believe that they will be able to obtain some price relief in the coming weeks as per the pricing service of ChemOrbis. Although demand may start to pick up following the expected end of the monsoon season in September, buyers nevertheless feel that prices have room to move down given the large premium Indian prices currently carry relative to other major Asian markets as well as domestic producers' efforts to regain competitiveness against import prices following a period of persistently limited domestic supplies stemming from some production issues.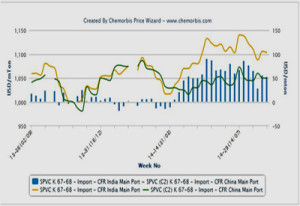 According to data from ChemOrbis Price Index, PVC prices on a CFR India basis have been carrying a premium of around $45-90/ton over prices on a CFR China basis since the end of April after several months in which prices to the two regions had been trading close to par.
In addition to buyers' hopes of lessening the premium on CFR India prices relative to CFR China prices, buyers also feel that more competitive prices may become available in the local market. "Our domestic supplier implemented a INR2000/ton ($33/ton) decrease last week and we expect the producer to announce another price reduction at the beginning of September," a converter commented. A distributor added, "Demand is not very strong in India these days and we are not expecting a major revival over the medium term as we believe that upcoming holidays in September and October will put a cap on buying interest."
According to ChemOrbis, in the import market, prices on the upper end of the PVC range are also meeting with resistance. "We received an offer for Japanese PVC at an attractive level and we will are planning to purchase soon," said a trader who received offers for Japanese PVC at the low end of this week's import range. A source at a Pakistani producer commented, "We managed to sell some materials last week, but we have been unable to conclude deals at the same level so far this week. Buyers are currently placing bids as much as $50/ton below our deal levels from last week."
A source at a South Korean producer stated, "We have heard that a Taiwanese major has not managed to sell out their allocations yet given relatively discouraging demand. We are not feeling optimistic about our prospects for the coming week, although we will not be facing any inventory pressure as we have a scheduled maintenance shutdown coming in October." A trader added that their Taiwanese supplier indicated to them that they may be willing to give some discounts next week, commenting that they decided to wait for a while longer before purchasing.