Increased investment in new high speed rail (HSR) lines is creating growth opportunities for plastics and composites manufacturers, according to a new report from Frost & Sullivan.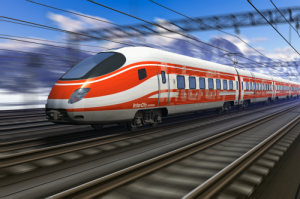 This is the result of expansion plans in some of the major HSR networks globally, especially China, market analyst Frost & Sullivan reports, while in Europe, Spain is expected to provide impetus to market expansion. Frost & Sullivan's report, Global Opportunities for Plastics and Composites in High Speed Rail, states that the market earned revenues of US$31.4 million in 2012 and estimates this to reach $35.7 million in 2018. OEMs are likely to incorporate larger quantities of composites in new rolling stock as a result of benefits such as lower life-time cost, significant weight reduction potential and higher strength-to-weight ratio.
"Much like the automotive industry and commercial aviation, the primary concern of the HSR industry has been high operational costs which is directly related to fuel-efficiency and weight," says Mondal.
"Composites not only enable HSR OEMs to overcome these challenges, but also promote passenger safety since they enable high impact resistance in HSR rolling stock structures. In addition, high design flexibility, which translates to complex part manufacturability at competitive throughput rates, is also motivating OEMs to look at composites as better alternatives to metal."
However, he warns that the high cost of composites compared to metals, lack of proper joining techniques, absence of standardisation (in terms of material grade), and poor reparability and recyclability all threaten to limit the penetration of composites in HSR applications.For the short-term, market participants should concentrate on strengthening their current product portfolio and engaging existing HSR OEMs/Tier-I suppliers on a larger-scale.
"In the longer-term, as the global economy recovers, market participants should focus on investing in new capacities, pushing product innovation and getting involved in joint development activities with OEMs," concludes Mondal.
Source: www.reinforcedplastics.com