ALPHARETTA, Ga., November 19, 2013 – LinkTech Quick Couplings, a leading global supplier of quick couplings and valves with headquarters in Ventura, Calif., has developed a proprietary quick coupling made of Radel® polyphenylsulfone (PPSU) resin from Solvay Specialty Polymers for surgical sterilization units. Custom designed and developed for a leading medical device manufacturer, the PPSU-based quick coupling provides a cost-effective alternative to metal that reduces weight, simplifies manufacturing, and eliminates machining.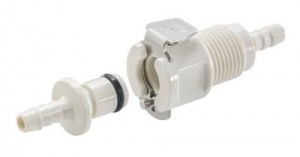 The new quick coupling is an external component used to quickly connect/disconnect a hose that transports sterilization solution from a tank/reservoir to the sterilization unit. The injection molded single-body design provides a distinct advantage over standard metal quick couplings made from multi-piece components that require assembly with automation equipment and ultrasonic welding.
"We chose Radel® PPSU as a replacement for metal because of its lightweight strength, toughness, and resistance to heat and chemicals," said Hector Cordero, design engineer for LinkTech Quick Couplings.
Radel® PPSU is a super-tough thermoplastic that can withstand over 1000 cycles of disinfection and steam sterilization without significant loss of properties. It is inherently flame retardant and is resistant to bases and other chemicals. Radel® PPSU is also compliant with ISO 10993-1 for limited exposure, non-implantable applications.
According to LinkTech, Solvay provided valuable technical support including mold flow analysis to help determine optimum gating of the sockets, measuring 4.5 inch long and 0.75 inch high (11.4 cm by 1.9 cm), and the male plugs, measuring 1 inch long and 0.5 inch high (2.5 cm by 1.3 cm).
LinkTech considered competitive engineering plastics for the application but ruled them out due to cost and performance issues, said Cordero. The company has used Radel® PPSU in other quick coupling applications.While the new quick couplings are currently offered on an exclusive basis, LinkTech is considering Radel® PPSU for a range of future products.
Solvay Specialty Polymers is the global leader in the development of sulfone polymer technology, launching Udel® polysulfone nearly 45 years ago. In addition, Solvay's experience as a key materials supplier in the healthcare field spans more than 25 years. The company is a leading manufacturer of high-performance plastics, offering the industry's broadest range of materials for demanding healthcare applications.