Mediterranean markets, including Turkey and Egypt, saw lower import prices for Far Eastern PET cargoes during last week as per the pricing service of ChemOrbis. China's absence as the country was celebrating the one week long National Day holiday weighed on global markets.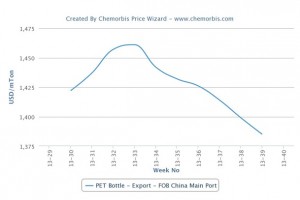 Looking at these markets individually, import PET prices saw $30-40/ton decreases in Egypt while offer levels were $30/ton lower at both ends of the import range in Turkey on a week over week basis. The one week long National Day holiday in China, which started last week, worsened the already unsupportive market conditions in terms of buying interest. Apart from the Chinese holiday, Turkey and Egypt are readying to celebrate the Eid holiday after this week, which will shorten the month of October further and slow down trade.
A trader in Egypt commented, "PET prices are spiraling down. This trend is no surprise to us but we were still not expecting it to occur this rapidly. This situation also shows us that demand is really weak in China. Egypt's PET market also holds sufficient stocks, in line with the current demand." A different trader added, "Overall supply levels are more than sufficient while demand is almost non-existent. China's being absent took its toll on the global buying interest amidst the fading high season for PET bottles."
In Turkey, a distributor noted, "We are not planning to import any materials since prices are decreasing and we fail to conclude sales, especially on cash basis. Most buyers, too, prefer to be sidelined from the market when prices are decreasing. Plus, the season faded away and we are not that hopeful about the PET market's direction. This month will be tough in terms of sales but we are expectant about making some sales to large sized buyers next month, who will start their pre-buying activities when prices decrease further."
According to ChemOrbis, prior to the National Day holiday, softer feedstock costs, weakening buying interest and rising inventory levels were indicating a stable to softer trend in China. However, producers' theoretical production costs based on spot PTA and MEG prices were still above the low end of the overall export range. Though weak demand is pulling down prices, theoretical costs still suggest that PET producers are operating with negative margins in that country.