Crude oil futures on the NYMEX fell Monday and Tuesday when the risk premium from a potential Syrian conflict was wound down by developments on the political front as per the pricing service of ChemOrbis. On Monday, crude futures on the NYMEX fell after they had hit a two-year high of $112.22/bbl just a few days earlier on August 28.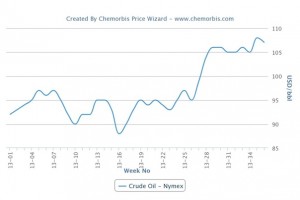 Futures fell Monday as it appeared that US President Obama would have a hard time convincing Congress to take action against Syria. Oil futures dropped to $109.52/bbl on the NYMEX that day. They dropped again on Tuesday after Syria's foreign minister said the country would accept a Russian proposal to put chemical weapons under international control, which would put a US strike on hold. NYMEX futures were down to $107.39/bbl on Tuesday's settlement.
On Wednesday, NYMEX crude oil futures saw little change, but managed to settle 17 cents higher at $107.56/bbl as investors took a break from the two day sell off. Plus, there were fresh reports of two car bomb blasts in Egypt, another center of conflict affecting crude prices recently.
Despite the unwinding of the risk premium from Syria over the first two days of the week, energy costs remain high. Two global producers blamed the high energy costs for raising PE prices this week to China for September shipments.
A source at a Middle East producer said this week, "We raised our LDPE prices by $25/ton and LLDPE film prices by $50/ton to China because of high energy prices, plus our insufficient supplies. Demand is generally slow, but we plan to insist on our offers for now because of high upstream costs."
A source at a global producer reported, "We see rising prices in the Chinese market, so we have allocated more volumes to that country. We believe the rising trend is mainly caused by strong energy markets and until we see a final development on the situation between Syria and the US, it will be difficult to see a clear outlook for the market."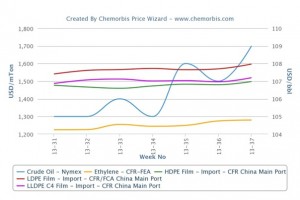 While the additional risk premium that was added to oil prices due to Syria has come off in the last few days, many oil analysts still see support for crude oil prices. President Obama on Tuesday said his country would explore Russia's initiative, but would still seek to use military force if it failed. Although Syria accounts for only a small portion of global oil production, analysts fear action there could spread elsewhere in the region, plus the country's ties with Iran could affect transport through the straits of Hormuz.
Supportive data was seen from the world's second largest oil consumer, China, after data earlier this week showed industrial production in the country rose 10.4% in August, up from expectations of 9.9% and higher than the 9.7% gain in July.
There are also ongoing disruptions in supply in Libya. As analysts point out, rebels in Libya have caused 1.2 million barrels a day of production to go offline. There is a potential civil war in Iraq which could affect 3.5 million barrels and unrest in Egypt continues, which could affect a million barrels a day.
There are bearish factors as well in the crude market such as a glut of oil in the US, rising output in Iraq and Saudi Arabian production at its highest level since 1980, plus demand from emerging markets could continue to decline.
However, as one analyst pointed out, crude oil is an attractive asset for investors at this time as stocks have been rather sluggish and gold is still digesting a bubble spike.
According to an analyst, it would be difficult for NYMEX futures to maintain a level of $110/bbl without serious trouble in Syria, unless other geopolitical centers such as Egypt flare up to take the focus. On the other hand, oil commentators expect futures to find support at around $105/bbl in the near term, according to ChemOrbis.