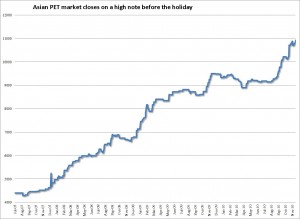 In Asia, PET prices closed the week before the Chinese New Year holiday, which will start on February 9 and last until February 15, on a higher note on the back of the firmer upstream costs, as per the pricing service of ChemOrbis. Export prices out of China gained $30/ton at the low end but lost $40/ton at the high end on a week over week basis. However, prices offered at the low end of the range disappeared toward the end of the last week.
Meanwhile, South Korea export prices gained strength over the same period and firmed up by $10-20/ton. Based on spot PTA and MEG prices, theoretical production costs moved up by $10/ton on CFR China basis. These figures still suggest that Chinese producers are offering below their theoretical cost levels and operating with squeezed margins.
A Chinese producer, who raised their export prices by $20/ton and local prices by CNY100-200/ton ($16-32/ton) on the back of the upstream costs, noted, "We plan to remain firm on our offer levels and we are unwilling to offer any large discounts. We believe prices will post further increases after the Chinese New Year holiday as the spot PTA market is expected to remain firm over the short term."
Another producer told ChemOrbis, "We lifted our export prices by $30-40/ton prior to the holiday in line with rising upstream costs although demand does not perform well." The seller expects prices to remain more or less stable at the high end of the current range once the holiday is over. A distributor remarked, "Prices gained ground prior to the Chinese New Year holiday on the back of the firmer feedstock costs. Therefore, we built some stocks as we believe that PET prices will continue to move up after the holiday.
However, due to the holiday, our PET sales remain slow. Yet, we believe that March will be a better month in terms of demand based on our previous market experiences."A trader highlighted, "We lifted our prices by $30/ton in line with the higher prices we received from producers. We believe that buyers have to accept these levels as prices are very much likely to gain further ground following the holiday. Plus, overall PET demand will traditionally perform better in March and producers, in general, are not under stock pressure at all."