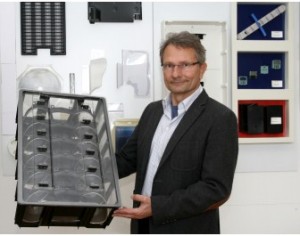 Illig's UA 100g sheet processing machine is being used to produce the transparent inserts suited to be placed into Varioboxx, a new type of KLT box manufactured by Varioplast Konrad Däbritz GmbH, according to the Germany-based thermoforming machine supplier.The components of the patented Varioboxx are manufactured in two different processes.
The open carrier box only consisting of frames and ribs and providing the required stability is injection molded as standard part of the size of 1/4 or 1/8 Euro pallet. The transparent inserts serving as receptacles for parts can be individually designed and are suited to be placed into the carrier box. These inserts as well as the dust-tight lid are manufactured by Illig's new UA 100g thermoforming machine."The Varioboxx, designed e.g as 1/4 Euro pallet size, only weighs 1.5kg including insert and lid.
Compared to the solid, completely injection molded version about 2kg of CO2 are saved already during manufacturing of the box as a result of the lower weight. And a truck saves approximately 2L of diesel per 100km due to the reduced loading weight. For every truck drive this means a reduction of about 5kg of CO2 emissions over a 100km distance." Explains Michael Däbritz, Managing Director of Varioplast. "Using our new Illig UA 100g we can now utilize all benefits provided by a high-speed thermoformer.
Thanks to the related short conversion times and the high process consistency we can now even produce inserts for individual applications in small to medium batch sizes economically and of high product quality," Mr Däbritz continues. According to Illig, machine size UA 100g, as used by Varioplast, is designed for thermoforming material from sheet and roll stock, featuring a forming area of up to 960 x 660mm.
The design of the machine is to maximize realizable output with high quality, achieved by new technologies such as reliable sheet destacking, compensation of outside influences during heating and reduction of temperature loss of heated material until forming, prevention of chill marks, achieving a uniform wall thickness distribution during forming as well as reduction of cooling time. The "Auto" operation page featuring all important functions of a screen page or the new optimization aid for setting the forming pressure in the course of forming in conjunction with a new, frequency-controlled vacuum pump are further elements to enhance operating convenience, adds Illig.
Source: http://www.adsalecprj.com/Publicity/MarketNews/lang-eng/article-67003946/Article.aspx