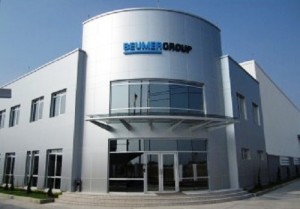 The Beumer Group's 2,000sqm new factory in Chachoengsao province, Thailand, has officially opened on April 4 along with the establishment of Beumer (Thailand) Co Ltd.
"I am convinced that, with the construction of a new building here in Asia, we have done exactly the right step to keep up with the growth of the Southeast Asian market," said Dr Christoph Beumer, Chairman and CEO of Beumer Group GmbH & Co KG.
Peter Weiß, Director of Beumer Group Company in Thailand, described the successfully completed construction "a milestone". The building, with a production area and an office area of 1,000sqm each, was finished in less than a year. It accommodates 80 workplaces in total.
Guests that attended the opening ceremony include German Ambassador Rolf Schulze, Karl-Heinz Heckhausen, the President of the German-Thai Chamber of Commerce, and Prachai Leophairatana, CEO of TPI Polene Pcl, one of the largest Beumer Group customers in Asia.
Source: http://www.adsalecprj.com/Publicity/MarketNews/lang-eng/article-67003945/Article.aspx