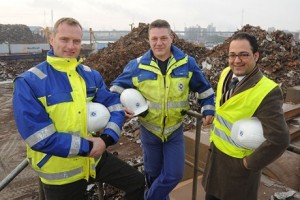 BRUSSELS : The article below is based on the BIR World Mirror on Non-Ferrous Metals –April 2013. BIR's new electronic scrap committee will be launched at the world organization's forthcoming Convention in Shanghai. As part of the BIR Non-Ferrous Metals Division, its remit will be to inform members about a sector that is growing and changing rapidly, and specifically about 'the myriad of regulations' that pertain to the recycling of such scraps, explains divisional president Robert Stein of Alter Trading in the USA.
On the issue of controls and regulations, a crackdown on lower grades of mixed scrap metals, shredded harness insulated copper wires and shredded material containing harness insulated wires has been implemented in the south of China. It has been decreed that importers must return these materials to Hong Kong for further cleaning and separation before they can be allowed to re-enter the Chinese market. Elsewhere, there have been other obstacles to smooth trading. The scrap trade in India, for example, has witnessed very low volumes because of money flow tightness ahead of financial year-end.
The market for import-based raw materials has been 'very challenging' with 'some astronomical numbers' quoted for any scrap becoming available. On the back of stronger enquiries for raw material, aluminum scrap supply has also tightened in Japan, leading to a US$ 200-250 per tonne increase in prices over the past two months.
Across in both Australia and New Zealand too, metal merchants are complaining of falling volumes and challenging trading conditions. With their currencies appreciating in relation to the US dollar, business conducted with traditional export markets has also been made more difficult. Some domestic consumers are showing signs of cutting their scrap requirements while others are declining to buy too far forward.
Staying in the southern hemisphere, tightness of supply has prompted 'aggressive' purchasing among domestic consumers in South Africa and, as a result, further margin compression and reduced exports. In the Middle East, meanwhile, supply of scrap has dropped and discounts have narrowed, with financial incentives for collectors said to be 'simply not there'. Morale among the region's traders is described as 'very low' given that many have been forced to cover their long-term contract volumes either at break-even or at a loss.
Complaints persist too in the USA about a lack of volumes and margins. 'The only secondary item that still commands a premium is Twitch,' it is noted. At the same time, spreads on Bare Bright, No 1 copper and No 2 copper have narrowed in recent weeks – 'especially for prompt material'.
Scrap volumes arriving at processing yards in Mexico are as much as 40% lower than last year, and are also down on previous months. However, there is no tightness in the market because consumers' purchasing volumes have also been reduced. Scrap discounts have decreased only slightly and not necessarily in direct proportion to the declines seen on the LME. And in Brazil, where scrap market conditions are also deemed to be 'tough', aluminum scrap dealers and end users are locked in a price battle: the latter are trying to lower prices in line with the decline seen on the LME whereas the former are generally countering by holding on to their material.
In Europe, the mood among scrap operators in Germany is generally 'bad', it is claimed. Metal producers still have sufficient orders but the metalworking industry 'is ordering only at short notice', with longer-term or annual contracts now consigned virtually to history. Here too, scrap availability is said to have worsened.
In Italy, brass and copper are both 'in the doldrums' while lead and zinc scrap are 'moving faster than the rest'. Feedback from France, meanwhile, suggests Southern Europe is offering some demand for copper scrap at decent levels while orders from aluminum consumers in both Europe and Asia are said to be 'satisfactory', with an increase noted in exports to Asia of low- and middle-grade scraps. Orders for battery lead have remained strong while consumers have been 'struggling to secure the large tonnages they need'. Meanwhile, stainless prices are weak and material is abundant.
A brighter note is sounded from the Nordic Countries where the general view persists that '2013 will become brighter than 2012', with local economies benefiting from more rapid world economic growth and experiencing increased industrial production. 'Overall demand for commodities, such as metals, is expected to gain strength with improving market sentiment,' it is pointed out. However, there are few signs a recovery in market fundamentals will be seen before the autumn.
Scrap collection activity in Russia and the CIS region has been affected by freezing conditions, abnormal snowfalls and road transport problems. However, scrap prices and demand are said to be stable, particularly for copper and aluminum.
Source: http://www.scrapmonster.com/news/bir-world-mirror-on-non-ferrous-metals-april-2013/1/8577