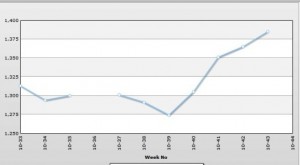 In China, import PP prices have started to climb, with some overseas producers already announcing higher October prices to the country, as per the pricing service of ChemOrbis. In upstream news, spot propylene prices are $15/ton lower than the early September levels on an FOB Korea basis but producers commented that theoretical production costs based on spot propylene remain at unworkable levels even after the recent losses in spot propylene prices.
Two major Asian producers revealed their new October homo-PP prices to China with increases. An Indian producer initially lifted their prices by $15/ton at the start of the week before issuing additional increases of $45/ton the next day. The producer's cumulative hike announcement comes to $60/ton on the week. Meanwhile, a South Korean producer lifted their October prices to China by $20/ton. The overall import homo-PP range for both dutiable and non-dutiable origins now stands $30-40/ton higher when compared to last week, as per ChemOrbis.
Inside China, locally held prices also recorded increases, gaining CNY350-450/ton ($55-71/ton) when compared to last week. Local producers Sinopec and CNPC both raised their offer levels by a cumulative amount of CNY400-500/ton ($54-67/ton), according to a distributor in Hangzhou. A source from a domestic producer commented to ChemOrbis, "We lifted our PP prices on the back of firm oil and plastic futures prices. Our price hike decision was also in line with the other domestic producer's increased offers. We think that prices will remain firm on the back of higher feedstock costs, although buyers are currently offering resistance to higher offer levels."
A trader reported, "Higher crude oil and plastic futures prices drove up PP prices earlier in the week and domestic producers' price hikes also pushed prices higher. For now, we are not willing to offer any large discounts as we believe that prices will maintain their firm trend over the short term." Overall demand is reported to be normal in China, with converters showing steady buying interest and traders building up some stocks on the back of their expectations of seeing further price increases. Some traders also complained about availability issues, saying that the local producers are refraining from concluding deals for large quantities while prices are on a rising trend.