Royal DSM, the global Life Sciences and Materials Sciences Company, announces another application for its EcoPaXX® polyamide 410, with the adoption of this high performance bio-based engineering plastic for Salomon's snowboard bindings made by Amer Sports.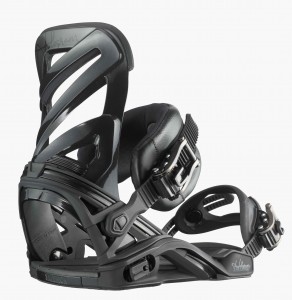 Young winter sports enthusiasts tend to be more fashion-conscious and more environmentally aware—which is not surprising given the outdoor nature of their activities. Winter sports brand owners are keenly aware of this. They are looking for ways to make their products must-buys for each new season, with improved performance and better 'green' credentials.
Amer Sports is one of the largest manufacturers of sporting equipment in the world, with internationally recognized brands that include Atomic and Salomon, as well as Wilson, Precor, Mavic, Arc'Teryx and Suunto. With a substantial portion of its sales being generated by innovative products that are in their first year after the market introduction, successful research and development is a critical element in its business activities. Amer says it seeks to continually introduce new and technologically-advanced materials that respond to the needs and wishes of its end-users of their products.
Next year, Amer Sports will debut a new range of high-end Salomon bindings for snowboards that for the first time are made from DSM's EcoPaXX bio-based polyamide 410. Until now, Salomon snowboard bindings have been made in polyamide 6 or 66, but the new series has improved sustainability and equal or better performance, most importantly at low temperatures.
"The EcoPaXX bindings have been on test in real-life conditions at Salomon for a year, and have performed extremely well," says Henri Rançon, Advanced R&D Manager for snowboard bindings and boots at Salomon. "They suffered no damage at all, so we are very confident EcoPaXX is the right material for the job."
EcoPaXX is 70% derived from renewable resources—castor beans coming from tropical areas in such countries as India, China and Brazil—and it is certified 100% carbon neutral from cradle to gate. With high performance bio-based engineering plastics like EcoPaXX, and its ability to support customers like Amer Sports with Life Cycle Analysis, DSM is supporting its customers with new innovative sustainable material solutions, handling important environmental issues head-on.
More information can be found at www.ecopaxx.com.