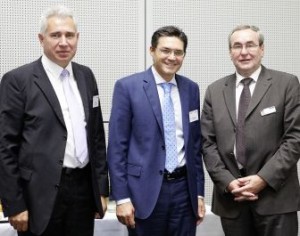 Arburg's Managing Director, Helmut Heinson, has been elected as Vice President of the European Umbrella Association for Plastics and Rubber Machinery Manufacturers (EUROMAP).
The elections took place in the context of the Extraordinary General Assembly of EUROMAP held at Fakuma 2012 in Friedrichshafen, Germany on October 18. In future, Mr Heinson will represent the new President, Tria Shareholder, and CEO, Luciano Anceschi, who will take over Bernhard Merki's office, who held the Presidency since 2005.
"Being elected as Vice President of EUROMAP is great honor for me," said Mr Heinson, who has been Managing Director Sales at Arburg since 2005. At the EUROMAP umbrella association, he has been involved to date, for example in market data and trade-fair related activities. "A very important practical topic for EUROMAP was, is and will continue to be energy savings," adds Mr Heinson regarding the focus of his activities.
EUROMAP is committed to drive forward developments with regard to lowering the energy requirements of plastics and rubber machines. Currently, recommendations regarding the standardization of energy measurement, for example in the fields of injection molding, extrusion, blow molding and thermoforming are being drawn up.
Source :http://www.adsalecprj.com/Publicity/MarketNews/lang-eng/article-128403/Article.aspx