Madison Heights, Mich. – Molders seeking a reliable, long-lasting hot runner temperature controller now have expanded options with the DME Smart Series® TSP Temperature Control Module.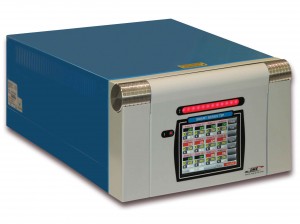 Featuring up to 48 zones, the module features intuitive GUI functionality in a compact footprint. The 5.7" color touch screen folds away, allowing it to be adjusted for optimal viewing.The controller is ideal for high-cavitation molds while still optimizing the performance of any hot runner system. The addition of the TSP enhances DME's electronic temperature control offer, giving molders greater flexibility and the ability to better manage their hot runner systems.
The TSP features design enhancements to improve hot runner efficiency while still keeping popular options that molders have come to expect in an advanced system. A set of proprietary controls optimize hot runner performance – including an adaptive auto-tuning algorithm and a Smart Start® mode that safely bakes out damaging internal heater moisture at system start-up to prolong heater life.
Additionally, the module allows molders to better manage their hot runner, saving time and money. Automatically deployed, self-diagnostic testing capabilities ensure optimal hardware configuration and a uniform startup feature reduces scrap and energy usage.
"The addition of the TSP helps us deliver on our commitment to give molders the resources they need to improve their hot runner efficiency," said Craig Kovacic, Applications Engineering and Technical Services Manager. "Molders will appreciate how the TSP provides greater flexibility and control through improved touch screen abilities, while reducing maintenance requirements due to important diagnostic reports."
The microprocessor-based temperature module offers an intelligent, user-friendly design. A full-color display gives users easy-to-access readouts and functionality, while providing important diagnostics such as temperature, power and current readings – important for proactive maintenance.
In addition, the TSP's plug-and-play system architecture gives molders more flexibility. A patented all-in-one control card offers more reliability, while modular 6-zone cards deliver 15 amps per zone. The module's programming design also allows for maximum customization to fit new tools and environments.
The TSP will be sold in addition to the DSS and DSM models. The TSP is fully compatible with all Smart Series or G-Series 15 AMP mainframes. To learn more about the TSP model, visit: https://www.dme.net/catalog/DME/Control%20Systems/index.html#8/z
About DME Company
DME Company is an essential mold technologies resource to customers worldwide. Through aggressive new product development, global product standardization and a powerful combination of in-house manufacturing centers of excellence and strategic global partnerships, DME is helping customers succeed in changing times. The company's standard-setting, comprehensive product line — including hot runner systems; control systems; mold bases and components and mold making and molding supplies — is backed by expert technical service every step of the way. DME also manufactures and sells standard tooling for the die-casting industry. Visit www.dme.net for more information.