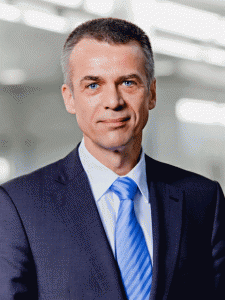 Privately held Helix Medical, already one of the fastest-growing polymer processors in the global medical device field, is actively adding more molding equipment and scouting possible acquisitions and joint ventures. "Since our first acquisition in 2004, we have consistently had double-digit growth every year, and it looks like that trend will continue this year," Dr. Jörg Schneewind, president and CEO of Helix Medical (Carpinteria, CA) told Plastics Today in an interview. "We continue to add machines in all of our locations."
Helix Medical CEO Jorg Schneewind Three molding machines were added recently to the company's plant in Kaiserslautern, Germany, and more molding machines and extruders will be added to a joint venture plant in Ireland in the coming months. A major new plant in Costa Rica is just opening now. Global sales for 2011 were $70 million. Head count has grown from 529 at the end of last year to 700 now.
Helix Medical is a wholly owned division of the Freudenberg Group, a 163-year-old family owned company based in Weinheim, Germany. The parent company, which had revenues of $7.7 billion last year, began as a producer of leather products and is now best known for its elastomeric products for a variety of markets.
Clean rooms added
Its first acquisition in medical plastics processing, made through its Freudenberg-NOK group in the United States, was Jenline Industries, a silicone contract manufacturer in Gloucester, MA. Capacity at that plant has since been more than doubled with the addition of thermoplastic molding and cleanrooms. In 2006, Freudenberg-NOK bought Helix Medical in Carpinteria, CA. Due its growing size, Helix Medical become a wholly owned business of Freudenberg Group two years ago and it now has plants in nine locations. There are plants in California (two), Massachusetts, Germany, China, Costa Rica, and two joint venture companies in Ireland (three).
"We are focused on silicone and thermoplastic molding, extrusion and assembly," Dr. Schneewind said in the interview. "We also do packaging and additional services for our customers." Helix Medical fits into Freudenberg's long-term strategy. "Freudenberg is a conservatively managed company that is building a diversified portfolio focusing on markets that promise profitable growth where we can leverage our technical capabilities," Dr. Schneewind said.
One example of its technology development in the medical polymers field is a silicone tubing product for light-sensitive pharmaceuticals. Another example is consumables for in vitro diagnosis, including an Capabilities include LIM and thermoplastic. integrated automated injection molding, assembly and packaging process. Within the past two years, Helix Medical has added cleanroom capacity at all of its locations, and is still growing into that additional manufacturing space. Capacity at the Costa Rican plant can be doubled as demand develops.
Catheter focus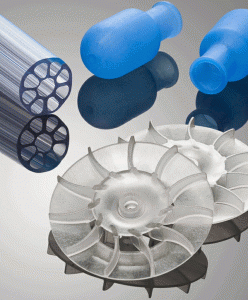 Helix Medical announced an investment last month in Cambus Medical, a manufacturer of precision metal (hypodermic) hypotubes and micro-components for advanced catheter systems. Under the agreement, Helix Medical will provide expansion financing for Cambus in 2012 and will acquire a 50% share in Cambus Medical Jan.1.
Manufacturing capabilities at Cambus include injection molding, machining, laser precision cutting, laser welding and marking, assembly and packaging. Principal focus is development and manufacturing of hypotubes and catheter shafts used in angioplasty balloon catheters and stent delivery systems. Helix Medical also owns a 50% share in another Irish company specializing in specialty catheters, VistaMed.
"We are currently expanding our VistaMed capacity to meet strong growth," said Dr. Schneewind. "We need more cleanroom capacity." More molding machines and extruders will be purchased for the 50% cleanroom capacity expansion, which will be completed next year.
Design engineering growth
Another area of growth will be design engineering. "We have some design capabilities, but not as much as we want," said Dr. Schneewind. "We are looking to invest in this as well because our strategy is to be a complete partner, including design and manufacturing services." More manufacturing capacity may be coming for Helix Medical in Asia.
"We see strong growth in the emerging markets in the Pacific Rim because of the sheer size of the market and the growing population. That market is a priority for us. Both acquisitions and organic growth are on the table right now. The U.S. is more complex. The market is not growing that fast." Growth is not expected in proprietary products. Helix Medical operates a business called InHealth Technologies that makes voice restoration products for people who have undergone surgery to the larynx. "That is a small, niche business that is basically holding steady and is managed totally separately."
Arburgs and Toyos
Arburg and Toyo are the standard molding machines at Helix Medical. "We try to limit the number of brands of machines so that we can have a 'plug-and-play' approach allowing us to transfer tools and projects, when requested by our customers, quickly from one factory to another. That helps reduce complexity and cost."
Freudenberg facilities in Germany and North America manufacture some of the molds used by Helix Medical. Other mold makers that are expert in specific technologies are used. "We have local mold makers in Europe, the United States, and we have excellent, continuously improving mold makers in China."
Source : http://www.plasticstoday.com/articles/helix-medical-adds-molding-capacity-eyes-more-acquisitions0928201201