Industry research company IBISWorld reports, over the past five years, revenue for the medical and veterinary instrument manufacturing industry in China has been increasing at an annualized rate of 19.4% to US$11.3 billion in 2013. Among the drivers, substantially increasing domestic demand, strong and steady export growth, healthcare sector reforms and the development of China's social security system are the key ones.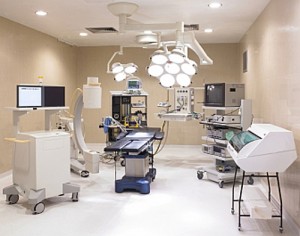 Demand for medical and surgical instruments comes directly from medical institutions, mainly hospitals. Demand from hospitals is determined by the number of patients, the types of ailments, conditions or diseases that patients have, and patient insurance levels or ability to pay applicable fees.
According to IBISWorld, currently, the general level of medical charges in China is much higher than people's ability to pay, especially in rural areas. With healthcare system reforms and the development of the social security system, especially the implementation and promotion of the New Rural Cooperative Medical Care System in countryside areas, more people will be able to afford higher medical and related expenditures, creating a greater potential domestic market for the industry.
In 2013, Shandong Zibo Shanchuan Medical Instrument, OMRON (China), Double-Dove Group and Yuyue Medical Equipment are said to be the top four players, expecting to account for about 21.3% of total industry revenue. As the industry being in the growth phase of its life cycle, this low level is logical.
Meanwhile, the industry concentration level has shown a declining trend in recent years, mainly due to the development of other companies and the growing number of new entrants to the industry. While the top four players achieved economies of scale, other major players also developed rapidly and gained greater market share.
Common diagnostic tools such as thermometers, blood-pressure meters, stethoscopes and pulmonary ergometers form the largest product segment in the industry. Among these products, blood-pressure meters account for the largest output and revenue.
IBISWorld defines the medical and veterinary Instrument manufacturing industry as it manufactures a wide range of medical instruments used for surgery in hospital emergency rooms, treatment rooms, doctors' offices and other medical facilities for operations, medical diagnosis, treatment and other purposes.
Source:  www.adsalecprj.com/Publicity/MarketNews/lang-eng/article-67006963/Article.aspx