The Grieve Corporation, an industrial heat processing equipment supplier in the US, introduces its three-zone, electrically-heated belt conveyor oven, No. 794, for curing cast silicone rubber layer onto steel rollers.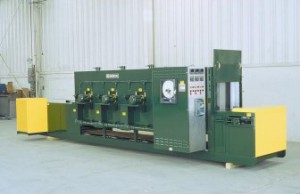 No. 794 has a maximum operating temperature of 260°C and a workspace of 30x96x24″. It consists of an 18″long open belt loading zone, 36″ long insulated unheated entrance vestibule, three 32″ long insulated heat zones with independent recirculated airflow and temperature control, 12″ long insulated unheated exit vestibule and 60″ long open unloading zone.
A 90KW total heat input is installed in Nichrome wire heating elements, with 30KW per heating zone. Three 1,000 CFM, 1 HP recirculating blowers provide vertical downward airflow to the workload.
No. 794 features aluminized steel interior and exterior, as well as 4″ thick insulated walls, a three-pen, 10″ diameter circular chart recorder and a 24″ wide, 1×1″ flatwire conveyor belt with 1/2 HP motor drive and variable speed from 1.5-4.3″/m. A customer-specified, multi-color paint finish is also supplied by Grieve.
Source:  www.adsalecprj.com/Publicity/MarketNews/lang-eng/article-67006972/Article.aspx