As a competence partner for tool and mould building, HASCO has, for many years, supported and sponsored the competitions of  "Tool and Die-Making for the Future" in Aachen/Germany and the "Plastics Industry Award" in London/Great Britain.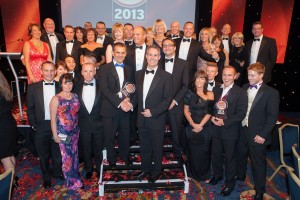 These competitions give innovative companies the opportunity to show  what they are capable of. The know-how and organisational processes are examined and evaluated by experts before companies are able to qualify as the best in the individual categories.
The Laboratory for Machine Tools and Production Engineering WZL at RWTH Aachen University and the Fraunhofer Institute for Production Technology hold their "Tool and Die-Making for the Future" competition in the German-speaking countries. They receive competent support on this from standard mould component manufacturer, HASCO, in Lüdenscheid.
The British "Plastics Industry Award", organised by "Plastics & Rubber Weekly" magazine, is likewise highly acclaimed. HASCO Internorm LTD  in Daventry is one of the active sponsors here.
The winners of the events are presented with their awards in a ceremony attended by a large number of experts from the plastics sector. The HASCO management attends this event so as to be able to congratulate the best entrants in person. Winner Ian Amos, Managing Director of Sprint Tool & Die, and Neil Moseley, Managing Director of HASCO Internorm LTD, can look back proudly on a customer/supplier partnership that has been running for many years.
HASCO offers reliable and cost-efficient mould solutions internationally, with a comprehensive product portfolio of more than 80,000 individual components in its Mould Base and Hot Runner Divisions. The company's close contact with different institutes and its partnership-based contact with customers in Germany and abroad, form the basis for a working relationship centred on trust.
HASCO is passionately committed to setting standards of perfection and innovation in tool and mould building and also to boosting productivity and cost-efficiency in the injection moulding process. HASCO's striving for "Excellence in Production" makes it the ideal partner and sponsor for these competitions.