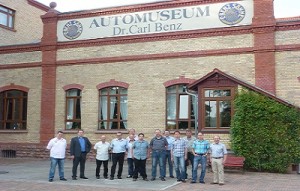 Some 200 designers have so far kept themselves up-to-date on innovations in tool and mould building during the worldwide Designer Days organised by HASCO, the international manufacturer of standard mould units.
There has been plenty of opportunity for animated discussion. Following an introductory company presentation with the focus on interesting new developments in standard units, the events provide tips on the web shop and digital catalogue, news of HASCO's Idea Management, and practically oriented CAD/CAM applications from the CIMATRON, MECADAT and SOLIDWORKS system houses.
The requirements, expectations and wishes of the participants were taken up with an eye to the future. "It is important for us to ensure that HASCO software is user-friendly, so that our designers and customers benefit from the greatest possible usability," explains system administrator Peter Schlink.
Get-togethers organised the evening before, which were specially tailored to the region in question, provided a sociable setting in which participants could get to know each other and engage in an exchange of opinion. Whether in Germany, Austria, Canada, Mexico, Poland or Portugal, each event had its own individual character and met with such an enthusiastic response from those present that further national and international HASCO Designer Days are being planned for 2013.
More Information : www.hasco.com