Würzburg, October 2014. – SKZ, a major German Plastics Center, located in Würzburg, has recently added a Buss MX 30 laboratory kneader to its stock of plastics processing machinery. Mid-September was the official handover of this oscillating single-screw kneader, making SKZ the first institution in Germany to have a Buss laboratory kneader with four-flight technology. Typical applications include incorporating additives and high-efficiency homogenisation when producing plastics compounds, even with particularly shear- and heat-sensitive materials.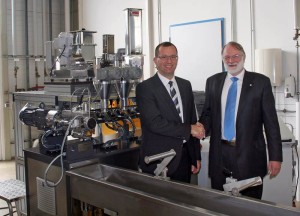 For Dr. Peter Heidemeyer, Managing Director R&D at SKZ, the MX 30 ideally complements the institute's existing compounding and extrusion machinery which includes various co-rotating twin screw extruders, a planetary roller extruder, a continuous kneading mixer and a twelve-screw co-rotating extruder. "This laboratory kneader provides us with cutting-edge kneader technology for a wide range of demanding processing tasks", explains Heidemeyer. "What makes this kneader so useful is its uniform shear rate and a slow temperature rise in the processing section which ensure extremely gentle processing. These two characteristics are typical of the combination of the reciprocating working principle with innovative four-flight technology. And thanks to the high free volume, we can incorporate large quantities of additives, such as halogen-free flame retardants, conductive and other specially structured grades of carbon black, as well as other functional substances, uniformly distributed into the polymer matrix."
Heidemeyer is all the more pleased with the current expansion of his laboratory facilities because he is now able to meet existing demand from industry: "These possibilities are arousing very significant interest in particular among our medium-sized customers. We have already received enquiries about such processing trials and the associated thorough evaluation of the results." The new Buss kneader will of course also be used for SKZ's own research projects. Tests for entirely new applications are at the planning stage according to Heidemeyer and the kneader's split barrel is particularly advantageous: "This makes it possible for us also to carry out a visual evaluation of how far processing has progressed in the individual zones of the processing chamber."
Dr. Andreas Kunzmann, Managing Director of Buss AG, emphasises the close cooperation with SKZ: "One major reason behind our decision to provide this laboratory kneader is SKZ's very practical focus. Most of the projects SKZ handles are driven by industry, predominantly by medium-sized companies. So that our MX 30 can be put to effective use right from the outset, our processing engineers will be on hand to provide assistance. Something that will apply both to SKZ's own research projects and to commissioned work." And he adds that precisely in the latter case interested parties can enjoy a major advantage: shipping test materials within the EU cuts out a lot of the red tape involved in using Buss' own pilot plant in Switzerland. As Kunzmann explains, "So we also benefit from our cooperation with SKZ because it is supporting the work of our recently established German sales operation in Oftersheim close to Mannheim".
In Buss' single-screw oscillating kneaders, the mixing and kneading screw carries out an axial oscillation on each revolution. Interaction of the kneading flights on the mixing screw with the stationary kneading pins in the barrel ensures thorough but gentle mixing of the compound in the processing section. The MX 30 laboratory kneader supplied to SKZ has a screw diameter of D = 30 mm, a processing section with a length L of 22 L/D, is suitable for product volumes of 300 g upwards and is designed for throughputs of 5 to 25 kg/h. Maximum screw speed is 800 min-1. The kneader barrel can be adjusted to processing temperatures of up to 300 °C. Equipped with three feed hoppers for feeding material, a discharge extruder with downstream pelletizing and user-friendly touch panel control, the MX 30 laboratory kneader is just as versatile as the larger models of the MX series. Process parameters determined during testing can be directly scaled to industrial production conditions.