The GCC's plastics industry 's finest inventions and ideas were celebrated at the GPCA Plastics Excellence Awards in Dubai, UAE recently.
The accolade, an initiative of the Gulf Petrochemicals and Chemicals Association (GPCA), recognised individuals and organizations that have made exceptional contributions to the plastics and plastics conversion industry over the last twelve months, said a statement.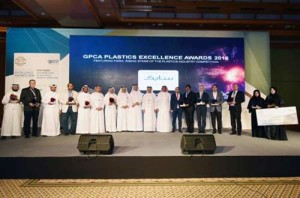 Dr Abdulwahab Al-Sadoun, secretary-general, GPCA, said: "Initiatives such as the Plastics Excellence Awards take crucial values like innovation and teamwork to the next level through the recognition of the industry's most notable developments.
"I am pleased to note that this year's winners include people and organisations from diverse backgrounds. Whether it is from the GCC's biggest companies, to up- and- coming SMEs to research institutions, these award recipients possess the ideas and ingenuity to be industry leaders of the future."
The awards attracted a record 51 submissions across six categories, including a special student award, which supports upcoming talent with the unique opportunities that turn a concept into reality.
The awards include Joint Development/Improvement of a new Product or Application; Joint Development/Improvement Project – Machinery Manufacturers & Plastic Converter; Innovation Excellence in Plastic Products and Processes; Best Sustainability Initiatives in Plastics Conversion; Best Researcher in Plastics; and Fikra-Rising Stars of the Plastics Industry-Students Award.
Website:                     www.tradearabia.com