Willich, April 2014 – "Development, production & distribution" – are the key topics for the bioplastics' specialist FKuR Kunststoff GmbH at this year's exhibition.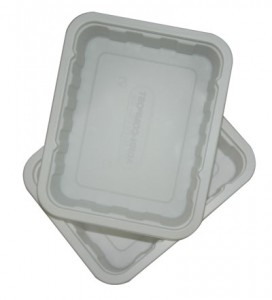 Apart from its own already well-established bioplastic compound portfolio (Bio-Flex®, Biograde®, Fibrolon® and Terralene®), FKuR has, since the end of 2013, additionally offered a comprehensive range of distribution products and will present a variety of biobased products at Interpack, one of the world's leading trade fairs, for the first time.
In addition to the Green PE (Bio-PE) from Braskem S.A., FKuR now also distributes Evonik's VESTAMID® Terra (Bio-PA) as well as GLOBIO, a biobased PET. (News from December 2013).
"With such a broad product portfolio, our customers now have the ability to access a unique variety of materials from a single source." says Patrick Zimmermann, Director Marketing & Sales at FKuR. Differentiation from competitors is one of the main motivators for using bioplastics. "The immense product variety nowadays makes it more difficult for the producer to attract the consumer's attention. With our bioplastics we offer the possibility of communicating 'uniqueness' using the packaging." explains Mr. Zimmermann.
Apart from satisfying the customers' desire for sustainable product solutions, FKuR's bioplastics offer added functionalities. For example, compostable bags and single-use catering items made from these materials can be disposed of together with food waste and organically recycled into valuable compost.
Another exhibition highlight is the achievement of the first production application for Bio-Flex ® F 6611 which has been converted to a new heat-resistant thermoformed food tray. This fully compostable tray has been produced by Plastisud in Italy.The range of possible applications for compostable products is very wide, for example as bags, pouches, nets and similar food packaging products.
For durable, non-biodegradable products, FKuR can offer bio-based products such as Bio PE, Bio PET and Bio PA. These products have a favourable carbon footprint and can help to reduce greenhouse gas emissions. As 'drop-in' solutions, they have the same characteristics as their fossil-based equivalents and can be widely used in the packaging industry.
Laminates of Bio PE with Bio PET or Bio PA can significantly enhance the barrier properties of bioplastics and thus extend the shelf life for food products.
FKuR presents these and other highlights at Interpack, taking place from 8th to 14th May in Düsseldorf, at booth 9F14 in hall 9.
Bioplastics:
Bioplastics are a unique class of materials which are based on renewable resources and/or enable the biodegradation of products made from these polymers.
About FKuR:
FKuR is one of the leading producers of Bioplastic-Compounds for flexible packaging solutions and technical applications. FKuR's range of products includes the product lines Bio-Flex®, Biograde®, Fibrolon®, Terralene® as well as the distribution of a variety of biobased products. For more information go to: www.fkur.com or www.fkur-biobased.com.