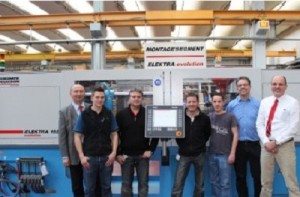 Ferromatik Milacron will deliver the 70th injection molding machine to Austria-based Hirschmann Automotive GmbH. It is part of a larger order of 13 all-electric machines by Hirschmann Automotive. The final four machines, from a total order of 13 Elektra machines ranging from 1,100-1,550kN clamping force, will soon be delivered, says Ferromatik Milacron.
"This will bring the total number of Ferromatik Milacron machines at Hirschman to 70. All of these machines are being used to produce connectors for the auto industry," said Ralf Cezanne, Director of Sales and Marketing at Ferromatik Milacron.
The machines have been customized for the specific requirements of Hirschmann Automotive, such as magnetic platen for fast mold change. "We love the energy efficiency of the Elektra machines, and the excellent repeatability," said Markus Welte, Head of Electrical System Engineering at Hirschmann Automotive. "Other benefits are how quietly the machines run, and how little space they take up. These make for a better production environment in our facilities."
The collaboration between Hirschmann Automotive and Ferromatik Milacron began in 1997 with a first all-electric ELEKTRA machine.
Source: http://www.adsalecprj.com/Publicity/MarketNews/lang-eng/article-67004245/Article.aspx