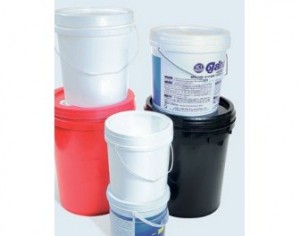 One of the major packaging manufacturers, R K Metal & Plastic Pvt Ltd of India is using ExxonMobil impact copolymer (ICP) polypropylene (PP) resins to improve the packaging integrity and appearance of pails used for emulsion paint, while reducing weight compared with metal pails.
 "We changed to ExxonMobil ICP PP resins for injection molded pails because of the leakage, transportation and aesthetic problems we experienced with metal pails. This included rust, dents and dust build-up. Using ICP PP resins has improved the impact strength and locking system of the pails. This has reduced damage and enhanced their appearance for greater shelf appeal," said Pankaj Sheth, Managing Director, R K Metal & Plastic Pvt Ltd.
According to ExxonMobil, ICP PP resins are easy to process and the pail can be injection molded into a tapered shape with lower weight. The stacking and nesting capability of the pails during storage and transportation has been improved, reducing overall logistic costs. The packaging company says when they switched from metal to ICP PP resins, the number of 20L pails that could be transported on one truck increased from about 950 to 2,000. The company has also experienced lower rejection rates of less than 1% with plastic pails, compared to 2% for metal pails.
"Producing plastic paint pails with thinner walls improves the sustainability and overall performance of our company. It reduces raw material use and waste production, while allowing us to meet stringent OEM requirements for lightweight, strong solutions," said Mr Sheth. "Pails for emulsion paints require high drop impact resistance and stacking strength to meet demanding load bearing requirements. Injection molded pails made from ExxonMobil ICP PP resins are able to meet these requirements."Consistent impact performance is another criteria for choosing ExxonMobil ICP PP resins, explained Mr Sheth.
"In northern India, temperatures during the cold season can be as low as 6-10°C. Pails manufactured from other suppliers' resins sometimes cracked and failed at these temperatures due to inconsistent product quality. ExxonMobil ICP PP resins provide reliable product quality to meet the cold temperature requirements."
Source: http://www.adsalecprj.com/Publicity/MarketNews/lang-eng/article-67002701/Article.aspx