According to ChemOrbis, spot propylene prices have been following a stable to soft path since the beginning of May across Asia. Tightness concerns had propped up spot prices considerably in April due to several maintenance shutdowns in the region. However, these concerns have started to ease recently due to the imminent start-up of new propylene plants.
Spot propylene prices nudged lower by $25-30/ton on average on FOB South Korea basis and CFR China basis in the past two weeks, according to players. News that sales of new supplies from Ningbo Oriental Energy's new PDH unit with 600,000 tons/year capacity will start soon pushed Asian buyers to the sidelines since it reportedly triggered expectations of seeing more availability in the coming weeks.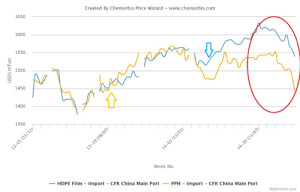 Players also reported that China's Yantai Wanhua Chemical is planning to commission its PDH unit in Shandong by the beginning of July. The plant will have a propylene production capacity of 750,000 tons/year. The start-up was already delayed from April this year.
On top of the new capacities coming online, some restarts are also helping to relieve tightness concerns, according to ChemOrbis. Sanyuan Petrochemical restarted its PDH unit in China last week, according to the latest market reports. The unit was shut in April for maintenance. The plant has 450,000 tons/year propylene capacity in Shaoxing, Zhejiang.
Japan's JX Nippon Oil and Energy has also recently resumed production at its naphtha cracker in Kawasaki following a maintenance shutdown of three weeks. The plant can produce 273,000 tons of propylene per year.
On the other hand, spot propylene availability in Asia is still not considered comfortable at the moment owing to the fact that several plants remain offline. Therefore, expectations about seeing an improvement in supplies has not had a major impact on spot propylene prices for now, commented a few players. However, players widely believe that clearer pressure will be seen on spot prices in June, when the restart of the currently offline crackers and propylene units coincide with the commencement of the new capacities.
You can visit ChemOrbis PP Production News to check the latest updates about the status of plants and crackers as well as specific information about the producers' names, plant capacities and timing details.