July ABS prices emerged with increases for European cargoes in Italy, supported by firmer styrene costs as per the pricing service of ChemOrbis. Some sellers of Asian origins, on the other hand, elected to leave their prices unchanged from June.
In the upstream markets, the July styrene contracts settled with increases of €82/ton from last month and the firming trend remains in place in the spot market where styrene prices posted weekly increases of almost $30/ton. ACN and butadiene contracts, on the other hand, were rolled over from June, which caused ABS sellers to issue smaller hikes with respect to PS.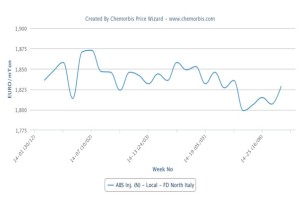 A West European producer started giving July ABS offers with increases of €50-65/ton from last month. A source from the producer commented, "We expect to see sufficient demand in Italy before it slows down in August due to the holidays. We may consider revising our offers later in the month depending on the demand situation." A South European producer is yet to reveal their new July ABS prices after settling their June gentlemen's agreements with discounts of €20-30/ton. "Demand is not very weak for ABS, but it will be difficult to issue sharp hikes as the market conditions are not brilliant," a producer source said.
A distributor also raised their prices by €60/ton for July in line with his West European supplier's pricing strategy. However, the seller is unsure whether the market will absorb such increases as demand has already started to slow down ahead of the holidays in August.
Converters remain cautious about their purchases as most of them avoid building stocks before closing their plants in August due to the summer holidays. In addition, some of them confirmed receiving steady July offers for Asian cargoes amidst the hikes in European material.
A converter received initial July offers for West European ABS with increases of €60/ton, commenting, "We are planning to skip our purchases for July as our stocks are comfortable and we will shut our plant for the whole month of August due to the holidays." Another converter bought some locally-held South Korean ABS with rollovers from June. The buyer reported seeing good demand for their end products, but they expect trading activities to slow down in August when they are planning to close their plant for two weeks.
According to ChemOrbis, a different converter also confirmed receiving steady July offers for South Korean ABS. "A distributor offering West European material initially asked for hikes of €50-60/ton, but conceded to smaller increases of €30/ton after negotiations. We are planning to make new purchases in July before shutting our plant for three weeks in August," he added.