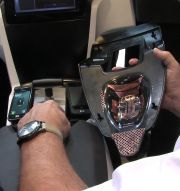 Ten of the top 15 automotive suppliers in the world trust injection moulding technology from ENGEL – yet more evidence of the ENGEL's commanding position in the international automobile industry.
The ENGEL AUSTRIA analysis was based on the latest list of the Top 100 Automotive Suppliers in the trade magazine Automobil Produktion, which is published by moderne industrie in Landsberg/Germany. Each year, the editorial team of the business magazine for the sector ranks the biggest automotive supplier groups by turnover. Data is gathered for the last available financial year, which was 2011 for the current publication.
Since the list covers the whole supplier market and not just plastics processing businesses, market penetration in relation to the companies relevant to ENGEL is close to 100 percent in the upper range.  "Two main factors are responsible for such a strong market position", says Jochen Wallmüller, Sales Manager (Key Accounts) at ENGEL AUSTRIA. "Firstly, we have pooled our automotive expertise into a special business unit linked to specific key account management, and secondly we have consistently oriented our products, technologies and system solutions around the latest trends in the sector."
Maximum quality, minimal unit costs
Since the pressure on costs is high in the automotive industry, the cost-effectiveness of products and processes is one of the most important criteria in any decision to invest. The versatility of ENGEL is instrumental in maximising efficiency potential: not only does ENGEL supply injection moulding machines, process technologies and moulds from a single source, it also delivers fully integrated ENGEL viper linear machines, ENGEL easix multi-axis robots and special solutions, sometimes based on semi-integrated multi-axis robots from other reputable manufacturers.
ENGEL thus combines efficiency and cost-effectiveness with a flair for innovation, thereby enabling customers around the globe to produce with maximum quality at minimal unit cost.ENGEL also works with partner firms in many cases to develop pace-setting new products for the automotive industry and its supply sector. The company has pioneered products for the lightweight construction area as well as the use of capacitive sensors (so-called 'smart plastics').In recent years, ENGEL has succeeded in expanding its market share significantly right around the world. Injection moulding machines in high clamping force classes – mainly deployed for applications in the automotive industry – account for a large proportion of that share.