Seminar on 'plastics recycling and waste management' organised by CIPET
Local bodies, particularly corporations and municipalities, should effectively implement solid waste management programmes, said V.K. Subburaj, Additional Secretary and Financial Advisor to Government of India, Union Ministry of Chemicals and Fertilizers.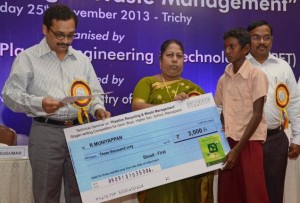 Speaking at a technical seminar on 'plastics recycling and waste management' organised by the Central Institute of Plastics and Engineering (CIPET) here on Monday, he said that local bodies should play a pivotal role in solid waste management, including management of plastic wastes.
India lagged behind other countries in the use of plastic. Against an annual per capita usage of 100 kg in the United States and 50 kg in China, the per capita consumption in India was just 8.5 kg.
"The Union Ministry of Chemicals and Fertilizers had organised several seminars at select centres across the country to sensitise masses to the use of plastics and re-cycling plastic wastes," he said.
Mr. Subburaj appreciated the Tiruchirapalli City Corporation for incentivising sanitary workers by paying Rs.3 for each kg of waste plastic collected by them and suggested that the programme be thrown open to the members of the public so that a large volume of waste plastics could be collected and re-cycled.
Safe disposal
V.P. Thandapani, Corporation Commissioner, explained the methods being adopted by the civic body in collecting waste materials. He said that awareness should be created among masses about the proper and safe disposal of plastics for its efficient recycling .
A. Jaya, Mayor, said that people should come forward to use more plastics. S. Sugumar, Chief Manager, CIPET, Chennai, said that the CIPET had established a model plastics waste management centre in Guwahati and had undertaken an e-waste recycling project at Laboratory for Advanced Research in Polymer Materials in Bhubaneshwar.
S. Ganesh, president, Tamil Nadu Plastics Manufacturer Association, spoke on the advantages of recycling plastic wastes. Earlier Mr. Subburaj released the proceedings of the seminar and also gave away prizes to the winners of various competitions held as part of the seminar.
Source: www.thehindu.com/news/cities/Tiruchirapalli/implement-solid-waste-management-programmes-effectively/article5393110.ece