Since the first ENGEL med.con four years ago, the medical conference has become an integral part of the injection moulding machine manufacturer's event calendar. Worldwide it is among the ENGEL events that attract the largest attendance. "The ENGEL med.con has established itself as a kind of networking event for plastics manufacturers in the field of medical technology," explains Christoph Lhota, Head of the Business Unit Medical at ENGEL in Schwertberg. "Our customers and partners use this platform to exchange ideas and to keep informed about current trends and strategies, as well as innovative products and methods. Participants often tell us that many of these ideas can be implemented straightaway."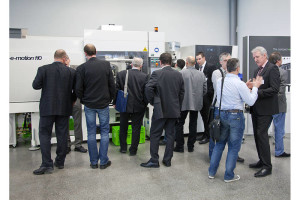 Process integration reduces cost per unit
Process integration and peak performance – this year ENGEL med.con focuses on these two topics with two live exhibits. ENGEL will produce drip chambers for transfusions with an integrated filter on an ENGEL e-victory 160 combi injection moulding machine with an integrated ENGEL easix multi-axis robot in a single work step. The highly developed manufacturing process, which was developed by ENGEL in cooperation with Hack Formenbau, celebrated its world performance at K 2013.
ENGEL med.con now offers the opportunity to analyse the efficiency potential of the new method in detail. "We expect this process to revolutionise the production of multi-component hollow bodies with or without inlay," states Lhota. "Starting with plastic granulate and the prefabricated filters, we receive ready-to-use drip chambers within 12 seconds. In the past, several independent work steps and at least two machines were necessary for this." The exhibit further demonstrates how process integration reduces the risk of contamination in medical technology. At ENGEL med.con, the energy-optimised, tie-bar-less hybrid machine will be presented in its clean room design.
Scale-up with maximum reliability
In a second highly-automated manufacturing cell, needle holders for pens will be produced on an all-electric ENGEL e-motion 160 injection moulding machine. Together with partner companies, Braunform and Hekuma, ENGEL demonstrates how cavity numbers can be increased also in medical technology without risking process stability and component quality. The process for manufacturing of needle holders is hard to beat when it comes to process reliability. The cores of the 96-cavity-mould have a diameter of just 0.3 mm, but the manufacturing cell still works with a cycle time of about 4 seconds.
To counter deformation of cores effectively, the premium version of the electric injection unit is equipped with a direct drive, which allows for dynamic injection movements and an injection time of up to 500 mm/s. If, however, there is a problem with a manufactured part, the camera-based monitoring system immediately picks up on this. Thanks to cavity-specific handling, reject parts are automatically separated and the injection mould can carry on producing without deactivating the cavity.
ENGEL has consistently adapted the machine series ENGEL e-motion to the meet requirements of high-performance applications in regulated manufacturing areas also when used with high-clamping forces. "The increasing cost pressure leads to the use of larger and larger multi-cavity moulds," says Christoph Lhota. "The injection moulding machines employed in medical technology applications therefore constantly increase in size."
Specialist lectures, partner fair, and room for networking
During the specialist lectures, experts from ENGEL as well as from partner companies and the processing industry will delve into the topics of safety, precision, and efficiency. They will discuss current challenges, success factors, and market opportunities and will also draw upon their own experience. At the partner fair, companies from the fields of mould manufacturing, automation, peripheral units, raw materials, and clean room technology will show their know-how.
At the end of the event, ENGEL will invite all participants to an evening soiree with buffet and entertainment. "It is important to us that ENGEL med.con participants have a chance to talk," says Christoph Lhota. "The key to success in medical technology lies in cooperative partnerships between the companies along the value added chain. Over the past years, ENGEL med.con has inspired many new joint ventures."