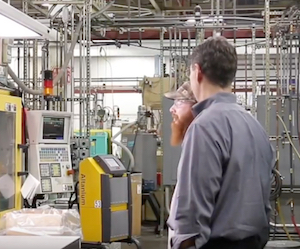 Empire PrecisionEmpire Precision Plastics (Rochester, NY), a manufacturer of high-volume, injection-molded opaque parts and optics, announced an expansion of the company's precision mold manufacturing operations.
Since the company acquired Advanced Mold & Tooling last year, Empire increased its ability to design, build and validate high-cavitation tools, and now has started its "tooling only" services for other molding companies.
Empire's expansion also includes new molding equipment to increase precision injection molding output and servo-driven robots for higher accuracy. The company's new technology center—an "idea factory"—supports collaborative R&D with customers' engineering teams to develop innovative products from concept through high-volume production.
"Early involvement in a project allows our engineers to really optimize design and production," said Empire President Neal Elli.
Empire also has a 4,000-square-foot white room for medical and optical molding and assembly, and 8,000 square feet of warehouse space to help support inventory and delivery programs.
The company will be showcasing its expanded services at the upcoming Amerimold show.
source-:https://www.plasticstoday.com/injection-molding/empire-precision-plastics-expands-tooling-services/145890507456837