At K 2013(hall 3 / booth C92) Brückner Servtec presents, besides numerous further service innovations, the following concepts for an optimized line operation:
Multi-layer film: New upgrade trend for BOPP lines
Brückner Servtec realizes a continuously growing demand for upgrades to manufacture added value, higher margin multi-layer film on existing BOPP lines.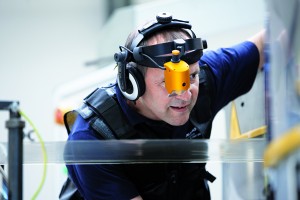 Film manufacturers with older lines notice that they can't compete anymore with the new, high-performance BOPP lines, which flooded the commodity market in the recent past.With the proven upgrade concept for 5- and 7-layer film production, they manufacture new products and enter new markets at a reasonably low investment.Thus, older or slower lines, even with a small working width, become competitive again.
Proven Brückner multi-layer technology
An upgrade to 5-/7-layer leads to a general output increase of the line. Further advantages are on the one hand, improved film characteristics, such as better optical, gloss, transparent and opaque properties, as well as cost advantages, since expensive additives are predominantly added in the thinner intermediate layers. Furthermore, condensate will be reduced, especially in the Transverse Direction Orienter (TDO), since fewer additives are used in the film.
The Brückner technology allows highest flexibility: an upgradedline to 5- or 7-layer can still produce 3-layer film with the modified equipment.As additional option, to increase the flexibility of the complete stretching line, the main extrusioncan be equipped with a twin screw extruder. This would allow the most efficient production of high voided films with high yields.
Remote Service for highest line availability
Today more than 80% of all Brückner film production lines in service use remote service solutions to reduce downtime. New developments and technologies help to minimize downtime and improve the overall line efficiency. Together with service level agreements, Brückner's remote service solutions provide a major cost saving potential for customers.
Tools for Remote Audio and Video in Service (TRAVIS)
Brückner Servtec's third generation of remote service tools TRAVIS was developed in close cooperation with service specialists and customers.
TRAVIS Mentor is a tablet PC and features a 10 inch touch display with integrated service camera, LED flashlight and dual-battery. It can be used as wireless operator station for production lines as well as mobile client to participate in remote service sessions. If required, a Brückner specialist can remote connect to the device, to assist and guide the TRAVIS user at the line during troubleshooting, maintenance and training.
TRAVIS Callisto is a headset which provides the same features as the Mentor but comes in a fully wearable design. Users have both hands free to carry out difficult tasks while being in direct contact with a Brückner service specialist.
Service Level Agreements
The remote service solutions of Brückner Servtec also include several Service Level Agreements. They provide a major cost saving potential for customers.
The "Expert-on-Demand" is an individual service hotline. Customers get professional help from Brückner specialists 24 hours a day, 7 days a week.
The "Service Account" is a prepaid account for customers with a reduced hourly rate by 25% for support working hours.
With the "Remote Access Agreement"customers can use the highly secure Brückner remote connection to the control system of their film production line, e.g. from their home office or any other place in the world with Internet access.