AIMPLAS, a Plastics Technology Center in Valencia, Spain, is involved in the OSIRYS project that focuses on the development of forest-based bio-composites and products for the construction sector.
In recent years there is a growing trend to replace traditional brick and mortar construction materials, façades which contribute to contaminants such as volatile organic compounds (VOCs), formaldehyde, particulates and fibers by multi-layer façades.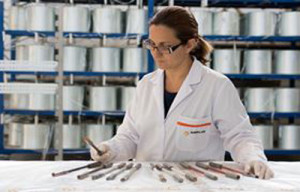 They comprise several layers that provide the insulation and protection properties required in traditional façades and are usually designed to have an exterior finished ventilated façade and an interior part formed by plaster walls. The inner part of the façade consists of several panels that provide insulation, and also fire and water protection.
AIMPLAS' role within the project is mainly related to the functionalization of graphene for its use with thermosetting resins and pultrusion process with natural fibers and bio-resins.
OSIRYS is an European Commission (EC) funded project which address the growing need to improve indoor air quality and energy efficiency through the development of bio-composites and products that meet the strictest requisites of the Building Code.
These new materials will improve air quality by eliminating micro-organisms, increasing thermal and acoustic insulation and controlling breathability of the construction systems.
This four year project is led by Tecnalia (project coordinators), in partnership with Acciona, AIMPLAS, ENAR and VISESA from Spain, NetComposites from the UK, Fraunhofer, SICC and Tecnaro from Germany, IVL from Sweden, Conenor and VTT from Finland, Omikron from Hungary, UNStudio from the Netherlands, Bergamo Tecnologie from Poland, Collanti Concorde from Italy, and Amorim Cork Composites from Portugal.
Website:    www.adsalecprj.com