Freudenberg Sealing Technologies, a German manufacturer of seals and vibration control technology products, has recently started to produce rubber seals made of Lanxess' Keltan Eco ethylene propylene diene monomer (EPDM) rubber at its North American affiliate.
"Besides the technical performance of Keltan EPDM polymers, it reduces our dependency on fossil resources and, because it is obtained from renewable sugarcane, has a significantly better CO2 footprint than petroleum-based polymers," emphasized Christian Widdershoven, Head of the business line Keltan Elastomers within Lanxess' High Performance Elastomers business unit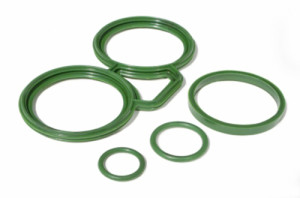 Keltan Eco EPDM contains up to 70% of ethylene obtained from sugarcane. The material is capable of withstanding temperatures up to 150°C, and has superior compressive stress force retention.
"We had been working with polymer suppliers for ways to reduce our carbon footprint, but the polymer offerings lacked the specific characteristics we needed for our advanced manufacturing processes. So we initiated a project to research the area, and we were able to develop a material that can be used in our next generation injection molding process," said Joe Walker, Global Director Advanced Materials Development at Freudenberg Sealing Technologies.
Applications for the rubber compound based on Keltan Eco polymers include seals for coolants, steam, synthetic hydraulic fluids, brake fluids and aerospace hydraulic fluids.
The specific Keltan Eco polymers used for Freudenberg Sealing Technologies' solution to the harsh requirements of fluid transport feature 45% bio-renewable content.
Switching from conventional Keltan grade to bio-based counterpart Keltan Eco imposes no special requirements on users, according to Lanxess.
The bio-based ethylene contents can be verified by testing method ASTM D-6866. Up to now, six bio-based rubber polymers from Lanxess are available.
Website:   www.adsalecprj.com