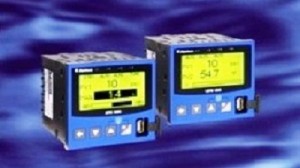 Dynisco's new UPR900 process indicator and ATC990 pressure/temperature controller are equipped with large backlit LCD displays, the company recently introduced. The new Dynisco ATC990 is a discrete, auto-tuning controller that is suitable for managing critical process parameters such as polymer melt pressure or temperature on a plastics extruder.
"When the plant needs only a single point of control but that loop is critical the ATC990 has the sophistication users need in a very simple package," says Joe DiOrio, Dynisco Product Manager. "The ATC990 is a very cost-effective way to display pressure and temperature, all while controlling the process."
Standard inputs include strain gage, thermocouple or linear (dc-voltage or milliamps), and the unit can also control differential pressure when an optional secondary strain gage input is used. Other useful display information includes alarm set points, peak values, error conditions, and engineering unit beacons.
As for the new UPR900, it can display a range of engineering units related to standard strain gage, thermocouple or voltage/current inputs. An optional secondary input makes it possible to display pressure and temperature simultaneously. If the two inputs are selected as pressure inputs, Dynisco says users could monitor differential pressure on a melt screen changer, for instance. Analog retransmission of process variables allows the signal to be sent to other devices.
The UPR includes two standard assignable alarms with the option to add a third. The LCD graphical display allows for easy reading of trending graphs with user-selectable monochromatic configurations.
For both devices, a step-by-step configuration wizard opens automatically the first time the unit is powered up. For day-to-day use, there is a menu-driven user interface. Modbus RS-485 and Modbus TCP Ethernet communication are supported so that any networked computer can connect directly to the controller, so that programming can be completed off-line using optional configuration and commissioning software
Using the real-time clock and data-logging option, users can record process values, set points and alarms and output them as .csv files for analysis or to support an enterprise-management system, notes Dynisco.
Source: http://www.adsalecprj.com/Publicity/MarketNews/lang-eng/article-67003981/Article.aspx