Promat Gloves Made with Dyneema® for Superior Cut Resistance, Comfort and Cost Efficiency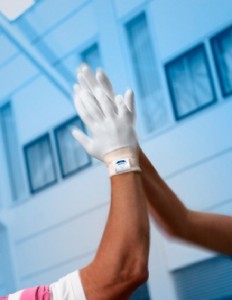 The Netherlands, October 24, 2013 – DSM Dyneema LLC (DSM Dyneema), the manufacturer of ultra high molecular weight polyethylene (UHMwPE) fiber, branded as Dyneema®, and world leader in life protection materials and high performance fibers, today announced a trademark licensing agreement with Promat, a leading producer of protective gloves headquartered in São Paulo, Brazil. Promat is the first domestic glove company in the Brazilian market to become a DSM Dyneema licensing partner. The agreement gives Promat the ability to brand its products with the Dyneema® trademark. Promat manufactures gloves to protect workers in the automotive and beverage industries.
"We are very pleased to partner with DSM Dyneema to provide under the Dyneema® trademark the unmatched performance and comfort of Dyneema® fiber to the Brazilian market," said Marcio Ribeiro Leal, general director of Promat. "This exceptional fiber enhances the quality, durability and overall value of our gloves, helping us satisfy our customers and stand out from the competition. This partnership will also help us create new and innovative products that can help our customers improve worker safety."
For more than 20 years, cut-resistant gloves made with Dyneema® fiber have been used successfully in applications such as food processing, sheet metal and stamped parts handling and glass manufacturing. In addition to excellent cut resistance, Dyneema® fiber provides a cool feel, high dexterity and soft touch for comfort, encouraging workers to use their gloves consistently. Since Dyneema® delivers excellent abrasion resistance and consistent performance over time, extending their useful life, gloves made with the fiber provide high cost-efficiency.
"We welcome Promat as a valued licensing partner," said Olivier Boubeaud, global segment director, High Protective Textiles, DSM Dyneema."Together, we will extend the benefits of high-performance, cut-resistant gloves to more Brazilian workers, while strengthening each other's market leadership and collaboration efforts to develop next-generation products using our Dyneema® fiber. This new partnership ties in directly with our global growth strategy to greatly expand our presence in Latin America and underscores our commitment to our customers in the region with one of the toughest, most advanced material technologies in the world."
The trademark licensing program sets high standards for abrasion- and cut-resistant gloves. A prototype is independently tested, and, if found compliant, the gloves may be branded with Dyneema®. DSM Dyneema licensed partners include only companies qualified and authorized to display the Dyneema® logo and word mark.