DuPont and the Dow Chemical Company have confirmed the merger agreement, forming a combined company called DowDuPont.
Andrew N. Liveris, current Dow's Chairman and CEO, will become Executive Chairman of the newly formed DowDuPont Board of Directors. Edward D. Breen, Chairman and CEO of DuPont, will become CEO of DowDuPont. The Chief Financial Officer is yet to be announced.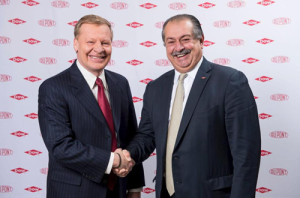 "This transaction is a game-changer for our industry and reflects the culmination of a vision we have had for more than a decade to bring together these two powerful innovation and material science leaders," commented Liveris.
DowDuPont will then be divided into three independent, publicly traded companies through tax-free spin-offs. It is expected to take place 18-24 months after the closing of the merger, subject to regulatory and board approval.
The three businesses to be separated are:
– Agriculture Company that unites DuPont's and Dow's seed and crop protection business.
– Material Science Company that consisting of DuPont's Performance Materials segment, as well as Dow's Performance Plastics, Performance Materials and Chemicals, Infrastructure Solutions, and Consumer Solutions (excluding the Dow Electronic Materials business) operating segments.
– Specialty Products Company that will include DuPont's Nutrition & Health, Industrial Biosciences, Safety Protection and Electronics & Communications, as well as the Dow Electronic Materials business.
"Each of these businesses will be able to allocate capital more effectively, apply its powerful innovation more productively, and extend its value-added products and solutions to more customers worldwide," said Breen.
The merger is expected to close in the second half of 2016, subject to customary closing conditions, including regulatory approvals, and approval by both Dow and DuPont shareholders. Upon closing of the transaction, DowDuPont would have a combined market capitalization of approximately US$130 billion.
According to the companies, the transaction is expected to deliver approximately US$3 billion in cost synergies. Additional upside of approximately $1 billion is expected from growth synergies.
Website:                           www.adsalecprj.com