Moving from traditional manual methods to product development with Delcam's CADCAM software has enabled Brazilian footwear manufacturer, Macboot, to develop and evaluate numerous alternative designs for each new product, and still get the new designs to market faster.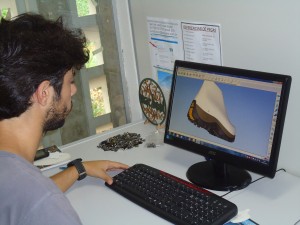 Macboot was founded more than twenty years ago by its current president, Mr. Marco Aurélio Silva, in the Franca region of Brazil. From the start, the company has operated the "human-environmental" philosophy of its founder, pioneering the implementation of sustainable measures in the manufacturing process.
In addition, the company has always innovated to improve the performance of its footwear, with shielding to increase the durability of products, novel ventilation technology and advanced waterproofing. These developments have made Macboot a unique company in its sector.
Launching products with innovative designs, at competitive prices and in shorter times, has always been a challenge in the footwear market. Thiago Faleiros, Macboot's Commercial Director, remembered "Initially, the company did not have any software to support the design of our shoes and the whole process was done manually. Consequently, many errors happened due to lack of accuracy, which caused production losses, in both time and money."
Macboot decided to seek a CAD and 3D printing solution to meet its needs. "As well as analysing the technology qualities of the software through real tests on our products, we sought a supplier that could help us to change the development culture and provide training for our technicians in a very short time," said Mr. Faleiros. "Another important factor was the accuracy and speed of data exchange with the systems used by our mouldmaking suppliers in the area."
After evaluating the various solutions available, Macboot opted to acquire both technologies from Seacam, Delcam's partner in Brazil. First, in 2008, Macboot acquired PowerSHAPE Pro to develop sole designs and ArtCAM to design decorative items. Subsequently, Delcam CRISPIN's ShoeMaker software was added for upper and sole design, plus Engineer Pro for 2D pattern engineering and grading. Most recently, Macboot acquired a 3D printer to produce durable plastic prototype parts from the designs created in the Delcam software.
"The introduction of this technology has brought many improvements to the company, such as the ability to view the soles and to produce prototypes before we begin tooling manufacture," claimed Mr. Faleiros. "We can also develop new designs in secret, since the complete process can be done within the company."
The successful implementation, based on deadlines and requirements determined by Macboot, was made possible by close collaboration between HomeCAM, Seacam's sub-dealer for Franca and Nova Serrana regions, Seacam and its suppliers Delcam and 3D Systems.
Another important partner was the local technical school, Senai Franca. The instructors, some of whom were trained by Delcam in the UK, played a big part in the training of staff at Macboot. This school offers these technologies as part of its curriculum so it can continuously provide new talent for Macboot already trained in the use of software.
"With these new technologies, and the support of our suppliers and Senai Franca, our development costs and times have been completely transformed: before we talked in days, now we work in hours," summarised Mr. Faleiros. "The power and flexibility of creating and editing our designs in the Delcam software, coupled with the speed and accuracy of the models generated in the 3D Systems equipment, has revolutionised our business."
For further information on Delcam's CAM software, www.delcam.com