CADCAM developer Delcam is pleased to announce that the company achieved record sales for a six-month period during the first half of 2013. This latest result means that the company has set new record levels of sales in each of the last seven half-year periods.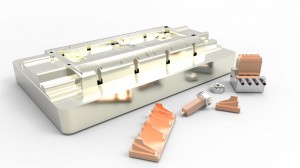 Sales to 30th June 2013 increased by 9% over the same period of last year to reach £25.0 million. Pre-tax profits for the period also increased over the equivalent period of 2012 to reach £2.8 million. Both results were helped by improved performances across most of the territories where Delcam operates.
The strongest overall results continue to come from the USA, the UK, Germany, Italy and China. Delcam saw good growth from its subsidiaries in Canada, France and India, and from its joint ventures in Korea and Thailand.
The Delcam Professional Services subsidiary continued its growth, winning a number of significant contracts for its consultancy and prototype manufacturing services from the aerospace industry.
During the period, Delcam continued to employ by far the largest development team in the CAM industry, a reflection of the importance the company places on ensuring that its programs represent the most effective solutions for its customers. Over the period, Delcam invested £5.8 million in its development programme, a further increase over the £5.6 million invested during the first half of 2012.
New versions of most of Delcam's design and manufacturing software have already been released this year, with further major releases planned for the EMO manufacturing exhibition, to be held in Hannover, Germany, in September.In the latest report from US analysts CIMdata, Delcam was confirmed, for the thirteenth consecutive year, to be the world's leading specialist supplier of CAM software and services.
Commenting on the record sales achievements, Delcam Chairman Peter Miles, said, "The first half results were encouraging. We continue to be very positive about our prospects, since we believe that the combination of our strong product offering, increasing automation in manufacturing and our broad range of markets, both geographically and in the number of industries we serve, offers the Group very good scope for further growth."
For a copy of the full statement, please go to:- www.delcam.com/general/investors/reports/interim_report2013.asp