David Hall, the Chief Executive of the Polypipe Group Plc has been elected as Vice-President of the British Plastics Federation, the trade body for the UK's £19 billion turnover plastics industry.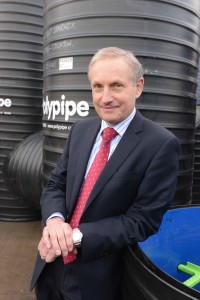 An honours graduate in mechanical engineering, he brings with him almost twenty years' experience at board level in the construction products sector of the plastics industry. Along the way he has also acquired an in-depth experience of the BPF, having served as a former President of the BPF's Plastics Pipes Group , traditionally one of the BPF's most strongly supported Business Groups, and as a member of the Federation's Council, its supervisory body. Additionally he has been very active in the Construction Products Association and currently serves as a Vice-Chairman.
With Polypipe' s leading position as a manufacturer of plastic pipe systems, operating primarily in the UK construction market, but with an operational presence in France, and a developing export business in the Middle East and elsewhere, David can draw on a rich store of experience to help inform the Federation's programme.
David Hall said "I am delighted to be given this opportunity to carry out the role of BPF's Vice President and to share in the overall leadership of the Federation. Manufacturing is critical to the UK economy and I am keen to put my experience, gleaned within construction products manufacturing , to broader use in the wider plastics industry."
BPF President Mike Boswell added "Everybody within the BPF is thrilled to have a businessman of David's stature on board. He is a true champion of British industry and I am very much looking forward to working with him, especially since support for the construction sector has been one of my key Presidential themes."
For all media enquiries, BPF logos and images please contact Laura Hindley, Communications and Industrial Issues Executive on [email protected]