AUSTIN (Scrap Monster): Plastic bag banner's remorse got the best of Dallas residents who weren't quite so thrilled with a California style, or even the quasi-Austin style bag ban that was foisted on them by their city council. However, just before noon on Wednesday, June 3, that ban was trashed in a 10-4 vote.
Starting Monday, June 8, Dallas grocery stores and other merchants will once again be able to offer plastic bags and no longer have to charge a 5-cent environmental fee for every bag provided to a customer.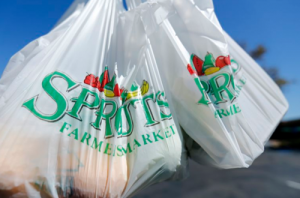 Breitbart Texas reported that the Dallas City Council passed the ordinance in 2014, although it did not go into effect until January 1, 2015. It was largely shepherded by over-zealous eco-councilman Dwaine Caraway.
Unlike in Austin, the Dallas ban did not prohibit the use of plastic bags but charged customers what councilman Jerry Allen dubbed the "nickle nuisance tax" with a nanny state feel, said another councilman Rick Callahan. Seems few were happy.
In April, Bag the Ban produced a short youtube video in which they portrayed Caraway as completely out of touch with how his constituents felt about the ban.
Even half of Dallas residents polled in May by the Dallas Morning News, which skews left, opposed the plastic bag ordinance.
Bag the Ban is an advocacy group for those who are completely against prohibiting plastic bags. They also seek to stop unnecessary bag banning legislation. The group is backed by plastic bag manufacturers who are deeply committed to the environment and recycling just not the banning and taxing of bags, according to their website.
In the few short months the ban was in place, the City of Dallas bagged more than $500,000 in "environmental" fees. What will be done with these funds shall be discussed at a later date, WFAA-8 reported.
The Dallas City Council had two proposed solutions to resolve the misery of the ban. The first, which failed, 9-5, would have completely banned "single-use" plastic bags from being sold or given away in the City of Dallas. The second, which was the one to pass, was the complete opposite solution – a full repeal of the ordinance.
Despite a theatrical appearance by the "plastic bag monster," a man wrapped within layers of assorted supermarket white and brown plastic bags, and a passionate plea from Caraway, there was no support to get the city council to vote for a bag ban at all.
Caraway has vowed to continue pushing for a full bag ban. That may be a tough fight. Besides a lacking will of the people, part of the push to bag the ban may also have been the result of a lawsuit filed against the City of Dallas by a coalition of plastic bag manufacturers and recyclers on May 1.
The lawsuit alleged that the single-use carryout bag ordinance 29307 violated the Texas Solid Waste Disposable Act and should be tossed out. Plastic bag manufacturers cited a ruling made last August by then state Attorney General Greg Abbott. It said that bag fees probably violate state law. The suit also maintained that the 5-cent "environmental fee" is an illegal tax. The bag makers were prepared to go to trial to settle the matter.
In a press release, Mark Daniels, Sustainability with Hilex Senior Vice President said, "The plastic bag manufacturing and recycling industry has invested millions in new technologies and education programs to enhance and promote the sustainability of this 100 percent recyclable product."
Following the city council vote, the cyber-celebration started. Bag the Ban triumphantly tweeted "The Dallas plastic bag tax was illegal, misguided, harmful to the economy and environment … and now it's GONE."
Meanwhile, in Southern California, rabid environmental groups are dog piling upon the City of Huntington Beach for repealing its ten cent a bag ban that went into effect on June 3. Many felt it was government overreach, although hardcore "big green" types like Jessica Budica, a member of the Surfrider Foundation in San Clemente, was perturbed that the seaside community was not onboard with their quest of sustainability.
Website:    www.scrapmonster.com