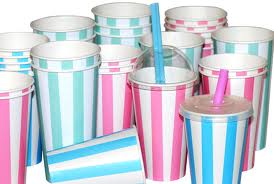 U.S. demand for cups and lids is forecast to increase 4.1% per year to $8.9 billion in 2016, with growth driven by above average gains for food packaging cups and a favorable outlook for foodservice revenues. Industry market research firm, The Freedonia Group Inc., lays out the market forecast in a new report entitled Cups & Lids.
The report states that the growing importance of specialty beverages among foodservice operators will be a key factor, with many quick-service restaurants placing greater emphasis on products like premium coffee, specialty coffee drinks, iced coffee, and smoothies, among others.
Drinking cups are expected to remain dominant, but the fastest gains are anticipated in the packaging cup segment due to cup-using markets such as yogurt, coffee and tea, and fresh fruits and vegetables. Additionally, advances will be driven by expanding applications where cups satisfy consumer demand for portable, convenient, single-serving packaging, or can help reinvigorate sales of mature products.
Food cups are forecast to enjoy above average growth thanks to the increased presence of products like oatmeal in quick-service restaurants and coffee and snack shops, and the rapid rise of self-service frozen yogurt shops.
Lid demand growth will outpace cups' growth, climbing 4.9% per year to $1.2 billion in 2016. The report forecasts an increasing percentage of drinking cups utilizing lids, heightened demand for costlier specialty lids, and healthy increases for single-serving packaging cups. Lids for packaging applications are expected to post faster gains than drinking cup lids, thanks to single-serving cup packaging.
Foodservice, which accounted for 68% of demand in 2011, is by far the largest market for cups and lids. Growth will trail the cup and lid average as a result of sluggish sales of fountain beverages, growing competition from bottled beverages, and the overall maturity of most applications.
SOURCE : http://www.plasticstoday.com/articles/cups-and-lids-market-boosted-food-packaging-083120121