Crude oil futures on NYMEX saw a figure as low as $75/bbl on Tuesday's intra-day trading, before paring some of the losses, upon the news that Saudi Arabia cut its official prices for crude exports to the US market as per the pricing service of ChemOrbis. This pulled US oil prices to a 4-year-low amid widespread concerns about the persistency of the bear market.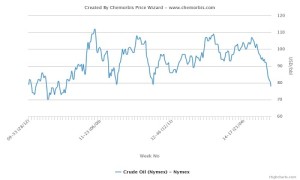 What has triggered the continued downward trend of the oil market is the soaring output in the US. The largest oil importer, the US, is not importing as much as before due to the improvement in supplies from shale gas. According to Bloomberg, oil imports from Saudi Arabia have been down to around 670,000 barrels per day recently from the past 4-5 years' imports of 1 million barrels per day, which needless to say pushed Middle Eastern oil suppliers to reduce their prices. The US is now facing the highest output of oil at around 9 million barrels per day in more than three decades.
On top of this, OPEC has continued to ignore the calls to cut output so far while the economic outlook is not so strong, particularly in Asia and Europe. China and India are not growing as fast as before while the economies of Germany and France face stagnation or even contraction.
OPEC, which meets around 40% of the world's oil supply, is scheduled to discuss output policy at a meeting in Vienna on Nov 27. The group has not changed its target of 30 million barrels per day since January 2012. All eyes are on this meeting as players think that only a decision to reduce supplies may stop this downturn. This move should be led by the largest member of the group, Saudi Arabia, they argue.
According to ChemOrbis, Brent crude also followed the losses of the US oil market with prices seeing as low as $82/bbl on Tuesday, the lowest settlement of the past four years.