Under the "New normal" economy, the Chinese manufacturing industry is under severe pressure to deliver a positive performance, and the plastics machinery sector is unavoidably one of them. In particular, both import and export of injection molding machines have slowed down.
According to latest China Customs' figures, from January to November China imported 16,600 units of plastics machines at US$1.42 billion, down 17.3% and 21.8% Year on Year YOY) respectively. Meanwhile, 368,500 units were exported at US$1.69 billion, up 76.4% and 2.3% YOY respectively. A trading surplus of US$280 million was recorded.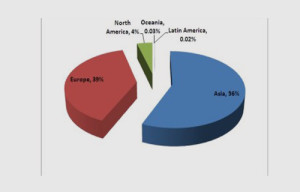 Looking into different category, the trading of injection molding machines slowed down in the above mentioned period. 5,734 (-3.2%) units were imported at US$610 million (-11.9%) while over 20,000 units (-11.2%) were exported at US$ 887 million (-2.8%).
Also worth mentioning is the strong performance of 3D printing. From January to November, China export 95,500 units of 3D printing machines at US$37.01 million, an increase of 100% and 77.8% YOY respectively. Imports of 5,972 units at US$46.294 million were up 11.9% and 16.8% compared with the same period of 2014.
Several large Chinese injection molding machinery suppliers experienced various level of slowdown in 2015. Haitian, the world's largest injection molding machine maker, recorded just 1% YOY revenue growth (RMB 3.85 billion) in the first half of last year; Yizumi's sales of US$650 million in the same period grew by 0.69%; Cosmos Machinery's HK$1.24 billion operating income grew slightly, yet earnings before tax of HK$8.38 million dropped 17% compared with the first half of 2014
Su Dongping, Secretary General of China Plastics Machinery Industry Association, pointed out that although 387 enterprises above designated sizes were facing enormous pressure, upgrade and transformation has brought certain success. According to her, the average revenue ratio of major operation rose steadily to 8.92% in the first 11 months of 2015.
2015 is the last year of the 12th Five-Year Plan, a critical transition period towards the 13th planning. China has been the biggest plastics machinery maker for 15 years up to that point, the total production value of enterprises above designated size is expected to reach RMB 58 billion by year end, with revenues topping the RMB 5 billion mark.
The global economy hasn't grow as fast as expected, as several rising regions dropped off in pace for various reasons. In China, stability comes first and its macro economy policy will likely have an impact on domestic demand. Yet, Su said the plastics machinery industry can look forward to playing a bigger role in sectors like automotive and medical, an opportunity that can propel the industry from being big to strong.
To progress efficiently, she believed it is important to have government policies supporting market driven operations. Emphasizing innovations and eco-friendly operations are also keys to the industry.
The 13th Five-Year Plan is targeting RMB 88 billion of production values and sales respectively for the plastics machinery industry; domestic machines should capture 80% market shares in China, while exports values should reach RMB 17 billion, with a trading surplus of over RMB 1 billion by 2020.
The nine major development focus in the 13th Five-Year Plan were listed as follows:
1. Machinery for manufacture of composites parts, e.g. carbon fibers based on thermoplastics
2. Plastics machinery with Smart production concept
3. Precise molding machines
4. Energy saving machines
5. Ultra big molding machines
6. Equipment for large scale construction in China
7. Machines suited to "One belt One Road" strategy
8. Eco-friendly processing machines
9. Machines for manufacture of lightweight parts.
Website:                                               www.adsalecprj.com