Slight increases on import PP prices were reported yesterday from the Chinese market, which appear to be supported by spot propylene prices and slightly higher local prices, according to a graphical analysis on ChemOrbis Price Wizard.
A source at a South Korean producer said on Monday, "We raised our September homo-PP prices by $20/ton compared to August. We have managed to close some small deals at our new offer levels, though buyers are cautiously taking up volumes at the higher prices."
A trader also reported yesterday, "We received increases of $10/ton for Indian cargoes for October shipment, but we did not receive buying interest at our new offer levels for this origin. There are no Brazilian or American offers available these days and prices in the local market were stable on the whole today. On the other hand, prices in the local market are competitive and buyers prefer local materials for now."
Spot propylene prices were reported this past week at mostly steady to slightly firmer levels. Spot cargoes for September are reported to be sold out from South Korea and October offers are awaited.
On average, spot propylene was reported in the range of $1330-1365/ton FOB South Korea over the past three weeks. This has created a delta between spot propylene prices on an FOB South Korea basis and import PP prices to China on CFR basis of $130-145/ton over the time period as seen below in the graph comparing homo-PP with propylene prices.
A theoretical delta for a polymer producer is around $150/ton between monomer and polymer prices and should account for the additional freight between South Korea and shipment to China.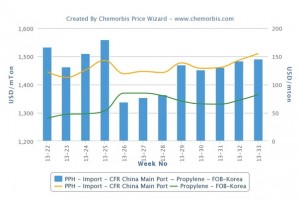 Adding the theoretical delta of $150/ton plus $20/ton for estimated freight costs to account for the offers for homo-PP on CFR China basis on top of the spot propylene prices on FOB South Korea basis puts production costs of PP at around $1500-1535/ton CFR China over the past three weeks.
A source at the South Korean producer who lifted prices by $20/ton said, "We lifted our offers for homo-PP to $1510/ton CFR China for September." The offer appears to be reasonable looking at theoretical production costs of $1500-1535/ton during August.
In early June, during weeks 22- 25, the delta reached higher levels of $166-180/ton before the market overcorrected in the following weeks. The delta during end June and early July (Weeks 26 – 28) had fallen to around $70-80/ton, which was followed by another correction in the market to restore the delta in week 29 to $135/ton.
The current trend of the delta appears more stable and supportive of current PP offers, though major upward momentum is not seen yet from spot propylene, while Asian players commented that the trend for propylene is for a more balanced market as some propylene sources return to the market after shutdowns.
Homo-PP prices in China's local market supported the rise in import prices as they moved above imports for a short period in the first two weeks of August (Weeks 31 – 32). Currently, import PP prices restored their place above local prices. Although import prices are above local levels this week, the delta is relatively small compared with the past weeks as seen in the chart below. The delta appears that it can comfortably rise a bit further based on the historical delta between import and local prices.
Looking at feedstock costs, it appears spot propylene prices have been following the trend of Asian naphtha prices over the last several weeks, according to ChemOrbis. While there was a dip in crude oil prices earlier this month, the previous rise in crude oil prices was all but ignored by both naphtha and spot propylene prices. As of Friday, crude oil prices on the NYMEX settled higher by $2.57 to settle at $105.97/barrel.