China's local PP market had been trading below the landed costs of imports since the beginning of 2013, although locally held and domestic cargoes should normally carry a premium over imports as per the pricing service of ChemOrbis. In recent weeks, the local market has moved up and regained its premium over imports after a long period.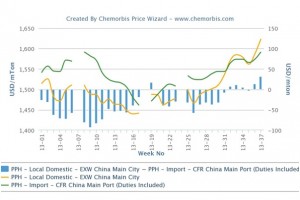 The local market was trading below the import market level all this time mostly because of poor demand, with domestic producers and local resellers offering more competitive options to buyers against import cargoes. What triggered the latest gains in the local market were mostly the soaring energy markets as crude oil on the NYMEX breached above the $110/bbl threshold earlier in the week before losing ground in the following days. The lack of inventory pressure on the producers' side was also blamed for the consecutive weekly gains.
A Chinese producer, who raised its PP offers by CNY50-350/ton ($8-57/ton) this week owing to low inventories and high crude oil prices, said, "There are some ongoing PP turnarounds at Daqing Petrochemical and Fushun Petrochemical. The startup date of the new PP line of Sichuan Petrochemical is also unclear. We are keeping a close eye on the status of PP plants and demand from converters in order to attempt new hikes."
"We received prices from a domestic producer with CNY100-150/ton ($16-25/ton) increases on the back of stronger energy markets. We do not have any materials now as we had sold out our stocks last week in anticipation that prices would stabilize following last week's hikes. We are not so confident that further price hikes are achievable in the near term," a distributor based in Beijing reported.
According to ChemOrbis, a Ningbo based trader also said, "Higher crude oil prices and lack of stock pressure helped domestic producers raise their offers, which was followed by resellers in the PP market. Although we think that PP prices will remain firm in the short term, we don't have any plans to replenish stocks for now as we don't want to take risks. We first want to see if demand will improve in the latter part of September and October."