Hong Kong-headquartered injection machine builder Chen Hsong unveiled an upgrade of its Easymaster hydraulic machine series featuring servo-driven hydraulic pumps at the recent Chinaplas show in Guangzhou. The second generation SVP/2 Series comes in clamping forces of 80 tons through 560 tons, and claims overall energy savings of up to 70% versus constant displacement pumps.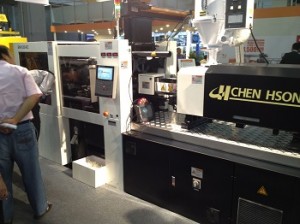 The SVP/2 Series also cycles faster than fixed displacement pump-driven presses. A 400-ton press molding a PP component for an exercise bike cycled at 46.5 s versus 48.5 s for a fixed displacement pump machine. In China,. Chen Hsong estimates a processor could free up 16 days of press time a year based on a product run of 500,000 pieces.
Chen Hsong also exhibited a souped-up version of the SVP/2 Series dubbed the EM120-EC at Chinaplas. This machine employs a Beckhoff controller in place of the company's in-house Ai-02 controller, a servo-pump with higher flow rate for higher injection speed and pressure (up to 30% higher), and linear transducers in place of rotary encoder for injection, clamping and ejection. Platens are also 40-mm thicker
Meanwhile, Chen Hsong also reports that Japan's Mitsubishi Heavy Industries Plastic Technology (Nagoya) has completed technology transfer for production of two-platen injection molding machines, production of which commenced its Shenzhen in March this year. The series is sold as the Ultramaster X-Series, also employ a servo-hydraulic drive train, and is available in clamping forces of 1600, 2000, 2500, and 3000 tons.
Source: www.plasticstoday.com/articles/chinaplas-2013-chen-hsong-upgrades-hydraulic-press-offerings-mitsubishi-20130610a