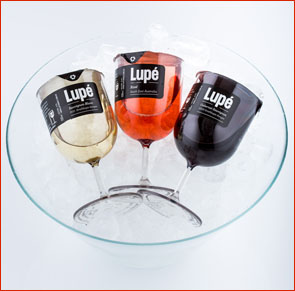 There is no doubt that in the world the Chinese economy has emerged as one of the leading players and it's doing tremendously well in every sector of business. Same is true for Chemical Industry as well. According to the latest news from plastic industry Melbourne-based Single Serve Packaging Pty. Ltd. has already sold 350,000 Lupé Wines-branded PET single-use wine glasses to Australian, Japanese and Singaporean customers since January 2012.
While talking to company experts and industry professionals the representative of the company says the year of 2012 had been a profitable and excellent year for the company as according to reports by the end of the year the company has already sold 3 sold 350,000 Lupé Wines-branded PET single-use wine glasses to various clients across the various regions of Australian, Japanese and Singapore by the end of the year.
The company in question was launched in November 2011, by a 26-year old entrepreneur Georgia Beattie. According to her testimonials she was keen to create a relationship with a Chinese winemaker and start producing the glasses there in the next 12-24 months. "China is our No. 1 [priority], but we need to warm up first," she said.
The move is being welcomed not only by the company but people across the industry as it would help us producing high quality glasses for various regions of the country.
The idea of serving with single-serve plastic wine glass was conceived and implemented by Beattie while attending a music festival in the year of 2009. During the time she witnessed some limitations that waters are facing with. She witnessed the limitations of wine packaging when a bar manager could not serve wine because "it was too hard at outdoor events."
Shortly after the event Beattie saw a BBC television show in which British entrepreneur James Nash pitched the same idea. She flew to London a week later to meet Nash, who is now director of Surrey-based Wine Innovations Ltd. He had already developed single-serve PET glasses in the United Kingdom under the brands Italian Job and Le Froglet.
After the event Beattie bought the rights to manufacture, package and distribute the glasses in Australia, New Zealand and the Asia-Pacific region. The deal "the deal allowed her to tap into what [Nash] had spent seven years developing. He already had the molds and the technology," she said.