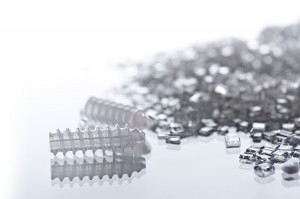 Polymers and platforms are our core business," says Dave Shalaby, President of Poly-Med, when referring to the Company's direction at MD&M West. After announcing their consulting services in Chicago, the PMI team will follow the momentum of that show by highlighting their product lines in Anaheim.
"Consulting is a valuable, complimentary and synergistic service that we provide but we want the device industry to recognize that we are a developer and manufacturer of both medical polymers and textiles," adds Scott Taylor, Sr. Manager of Device, Design & Engineering. According to Dr. Taylor, many of the Poly-Med materials and platforms are used every day in well-known devices around the world. The team is aiming to increase the visibility of these absorbable polymers and textiles for use in medical devices.
At the MD&M booth, Poly-Med will display samples of their proprietary polymers, fibers and finished devices in which their products are used. According to Shalaby, "Our visitors will see that we can provide a complete solution in one place. Customers need not buy their absorbable polymer and do their processing with two separate vendors. The end result: improved cost efficiency and speed to market."
The Poly-Med team will be at MD&M West in Anaheim, California, from February 14th through the 16th in booth 725.
Poly-Med is a privately-held company in Anderson, South Carolina, that develops and manufactures absorbable polymers, fibers, and textiles primarily for use in the medical device industry. See their web site at www.poly-med.com.
About Poly-Med, Inc.
Poly-Med is a well-established medical device design company with expertise in novel, proprietary polymers and biomaterials technology. Our clients choose us when seeking to apply cutting-edge scientific and engineering principles toward developing proprietary polymers for specialty manufacturing of biomedical and pharmaceutical products. Research & Development, Consulting, Manufacturing and Analytics