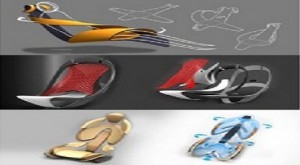 BASF announced the three winners of its first global design competition "sit down. move" for car seats at the Geneva International Motor Show on March 5. The global winner chosen by the jury was Song Wei Teo of the University of Coventry in Great Britain. The two further winners were Kim Joonyoung of the College for Creative Studies in Detroit, the US, and Pantila Debhakam of the design agency shakes bkk of Bangkok, Thailand.
"Song Wei Teo's extraordinary design of a car seat made in just a single piece using lightweight materials won us over," stated the jury in explaining its choice of the winning entry. "We will manufacture prototypes of the three main winning concepts and present them to our customers as well as to other interested parties at various events," explains Eva Höfli, BASF Designer and Contest Coordinator.
Renowned industrial and automotive designers Konstantin Grcic, Ken Kiyoyuki Okuyama and Dave Lyon, together with the three BASF members of the jury, evaluated more than 170 entries from 33 countries in order to select the best studies. In view of the large number of creative and professional entries, the jury decided to additionally give three special mentions in the categories "material utilization", "color and trim" and "visualization".
"The three concepts highlight these specific design elements in a particularly original manner," said the jury in praise of the winners Christian Delise (Japan), Hyejin Park and Minuk You (USA) as well as David Panzeri (Italy). The competition is a joint project of BASF's global seat competence team together with the designfabrik, which assists designers in selecting materials, colors and surfaces as well as in constructing innovative products.
The assortment of available materials includes not only thermoplastics such as Ultramid (Polyamide), thermoplastic polyurethanes (PU) such as Elastollan, foams based on expanded polypropylene (PP), Neopolen and aromatic PU Elastoflex W but also the transfer coating technology Steron, binders for natural fibers Acrodur and Catamold, BASF's powder injection technology.
Source: http://www.adsalecprj.com/Publicity/MarketNews/lang-eng/article-67003438/Article.aspx